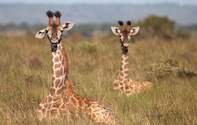 The Bume Road region is defined by low hills with rough and sandy soil on the hilltops with sweet grass attracting many browsers.
A more scenic alternative from Crocodile River Road is to drive towards Bume Road (S26).
This region is defined by low hills
with rough and sandy soil on the hilltops. The sweet grass usually grows on the darker clay type soil on the lower slopes, so look out for game along the streams and rivers.Knob Thorn Acacias, Bushwillow and Marula trees are spread throughout this area, which provides more for browsers rather than grazers. The more common browsers are
Giraffe, Kudu, and Duiker
, while Impala (both browsers and grazers) are always around.Klipspringer can be seen on the rocky outcrops, and Elephant are often seen in the riverine areas where you can find specimens of Leadwood, Jackal-berries, Sycamore figs and Sausage trees. The size of herds containing
grazers in this environment
is generally smaller than the herds on the smaller plains.Although black Rhino have been reintroduced into Kruger, the original populations are concentrated in
the Nwatimhiri and Gomondwane thickets
north of Crocodile Bridge and south of the Sabie River. Another uncommonly seen animal which favours this area is the Sable Antelope. The Sable Antelope is one of the largest of all Antelope.From Bume Road, it is advised that you take the Biyamiti Loop (S23). Spend some time at
the game rich Biyamiti Weir
. In summer this habitat seems to be favoured by the European bee-eater.
One of the best drives in the south of Kruger National Park is the 22kms (13.6 miles) road (S139) that follows the Biyamiti River past Biyamiti Bush Camp. Access to this area, however, is only given to guests booked in at Biyamiti Bush Camp, a very pleasant small camp that offers the visitor a sense of privacy.
Biyamiti River is about
41 km (25.4 miles)
from the Malelane Gate and 26 km (16.2 miles) from Crocodile Bridge Gate. Crocodile Bridge Gate is only 12 km (7.4 miles) from the N4 highway, which makes this camp easily accessible.Another option to Bume Road is to
head back eastwards
along the Randspruit Road (H5), which takes one past the site of Sardelli the Greek's trading store on the banks of the Vurhami River.
Wooded, cosy and luxurious, Biyamiti lies close to the old trade-route where Ox-wagons once cut their way through the bushveld on their way to the coast...
more