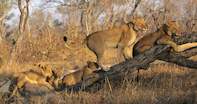 Experience Kruger National Park with Siyabona Africa's exclusive collection of safari packages, from high-end luxury to standard classic safari tours. Whether you are looking for a romantic honeymoon escape, or a spot for the annual family holiday, you are bound to discover just what you need, right here.
With a Kruger Park Safari, combined with the variety of accommodation types that we offer, you can look forward to lodge living in perfect luxuriousness, or comfortable, tented chalets with the closer-to-nature feel.
Either way, you are set for a great Kruger Park Safari adventure. Morning and early evening game drives, bush walks for the more strenuous and ample opportunities for wildlife photography. All of this conducted by experienced safari guides, game rangers and trackers.

This selection of our most popular Kruger Park safari holiday packages promises an unrivalled abundance of game viewing opportunities.

These Kruger Park classic lodge safari packages are about being close to nature and wilderness whilst living in the style that reflects the essence of the traditional safari experience.

Kruger Park family safari packages are all about getting together for a shared experience with those nearest and dearest to you. Family gatherings have a special place in our hearts.

Our fully guided Kruger Park safari packages are one of the best ways to enjoy a Classic Safari in the Kruger National Park. Led by an experienced safari expert guide and tracker.

Only The Best - This Premier Kruger Safari Collection represents the prestige that is reserved for those whose refined taste and passion lead them to expect the very best.

These selected Kruger Park honeymoon packages and romantic safaris each offer something different. Indulge in spa treatments, champagne baths or fireside romance.

Tented camps in Kruger National Park range from basic comfort to exceptional stylish luxury. See a selection of Tented Camp Safari Packages in Kruger National Park

Whether you self-drive in your own vehicle or rent-a-car, these Kruger Park self-drive safari packages offer you the freedom and flexibility of driving at your own pace.

This Speciality Safari experiences collection presents a range of safari packages selected for their complete individuality. Experiences include walking safaris, cultural interaction or spa treatments.