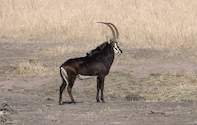 Palaborwa Gate is situated in northern Kruger Park, which is very different from southern Kruger Park.Routes from Phalaborwa Gate:
Head north to Mopani Camp (H14)
East towards Letaba on the main road (H-9) or a side route (S131)
It is important to note that
northern Kruger is completely different
from southern Kruger. The main reasons are the dry climate and the dominance of Mopane, the main vegetation of northern Kruger. Because of this there are limited animals in the area.Don't let this prevent you from traveling to this part of Kruger as it offers other rewarding Kruger experiences. The Phalaborwa gate leads you directly into meandering
woodlands of Mopane trees
, bushwillows and acacias.Mopane grows as a tree or shrub depending on the climate and the degree of usage by the Elephant.
Elephant abound in Mopaneveld
as more than half of the Elephant population of Kruger National Park resides in this area.Phalaborwa Gate offers an interesting landscape; granite stands forms a series of kloppies that have been used as
navigational landmarks for centuries
. The grass of this region is both sweet and sour, but is usually scattered due to lack of rainfall.The
best game spotting is in the drainage lines
and the contours around dry stream beds as the more luscious grasses are usually found in the lower lying areas. You have an opportunity to exit your vehicle within 10 kilometres/6.2 miles from entering Phalaborwa Gate.Here you will be able to
view the Sable waterhole or the Masorini Cultural Village
at the foot of the Vudogwa Mountain (439m). Sable waterhole is a place where the Sable frequents. These shy animals are normally difficult to spot as they prefer to roam in denser thickets.
Facts on Phalaborwa
Flat mixed mopane woodlands with granite hills that are ancient sites of human occupation
Masorini provides insight into the lives of 16th century iron makers and traders
Wild dog are often seen around Phalaborwa
Rarities to look out for are the Sable antelope