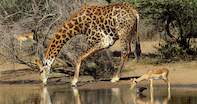 © Nigel Dennis
Find out all you need to know about the best game viewing routes in Kruger Park. For the self-drive safari enthusiast, Here is a comprehensive selection of maps, numbered routes and roads and the main attractions or highlights of each area.
You can also find out what wildlife or birdlife is most predominant in each area, so that you can be prepared to look out for them.

For the self-drive safari enthusiast visiting Kruger Park, these game-viewing routes provide detailed description of drive-times, stop-over. Explore Kruger Park Game Viewing Routes

The central grasslands have the highest lion population in Kruger. Lions may be spotted on any of the roads around Satara. Explore the Kruger Park Central Grasslands

There's more chance of seeing the Big Five in the south-east of the Park than just about anywhere else in Kruger National Park. Explore the best of South Eastern Kruger Park

The far north of Kruger is unique. The riverine forest along the Luvuvhu River is the best place to see nyala antelope in South Africa. Explore the Far North of Kruger Park

Northern Kruger has fewer animals than most other parts of the Park, however, it is a rewarding birding destination - Shingwedzi flood plain drive. Explore the North of Kruger Park

The Olifants River is generally accepted as the divide between southern and northern Kruger. Explore the Olifants and Letaba Region of Kruger Park

The Sabie River bushveld between Skukuza and Lower Sabie has one of the highest concentrations of leopard in the world. Explore the Skukuza Area of Kruger Park

The south-west is the most mountainous part of Kruger and gets more rainfall than anywhere else in the Park. See the Grey rhebok here. Explore the South West of Kruger Park

This handy self-drive traveller's guide to all the best Kruger Park Game Drives by Region includes all the game viewing self-drive routes covering all the popular regions and remote areas.