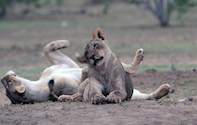 Many of Kruger's biggest herds of grazers are found in the open grasslands of Satara and is renowned for its Lion and Hyena sightings.
Satara offers good Lion viewing due to its abundance of game and water. Sightings of Lion are likely on any of the roads that lead to the rest camp. Satara Rest Camp is also relatively child friendly as there is a vast open space within the camp where children can play. There are also specialised game tours available for children.
Facts on Satara
Open plains with stunted knobthorn and marula with light mixed woodland in parts
Many of Kruger's biggest herds of grazers are found in these open grasslands
The Satara area is renowned for its Lion and Hyena sightings
High chance of seeing kills in this area - keep an eye out for the vultures circling in the sky
Prolific birdlife in summer when the pans and vleis fill up
Satara to Olifants (H1-4)
Oliphants is an hour and a half's drive away from Satara through flat and monotonous landscapes of Knob Thorn and Marula.
There is however, an abundance of game viewing opportunities. There are a number of pans along this road and the grass is sweet, attracting many herbivorous animals.
East of Satara
The
grasslands in this area are rich in game
. A good idea is to follow the N'wanetsi River along the S100, stopping at the Shibotwana and Nsasane waterholes before coming out on the Gudzani Road (S41).
This road takes you south down to N'wanetsi.
Singita Lebombo Lodge a privately owned establishment, is near N'wanetsi. Singita boasts its own gym, health spa and art gallery.
N'wanetsi and Sweni are 2 very good resting spots where you are able to get out of your vehicle, stretch your legs and
admire the beautiful views
of the Lebomba Mountains. To get back to Satara, take the H6.
The H6 has good waterholes
for animal viewing at Sonop and Shishangani. Another route is the Trichardt Loop (S37) south towards Tshokwane.
Satara to Tshokwane (H1-3)
There is excellent Lion country between Satara and Tshokwane. The Sweni River is about 10 kilometres/6.2 miles south of Satara on the H1-3. Lala trees are found along the river bank and are only common in the north of Kruger. The road south provides rich plant and animal life among the Knob Thorns.
Nkaya waterhole is one of the only permanent water sources on this road. The baobab tree is found just after the junction of the main Satara-Tshokwane Road (H1-3) and the N'waswitsontso River Road (S125).
This tree is believed to be over 1000 years old. South of this spectacular tree is the interesting N'wanwitsontso Loop (S86). There is a good chance of seeing a Lion on this 4 kilometre/2.5 mile detour.
Satara Rest Camp is the Kruger National Park's third biggest rest camp, providing a range of Kruger National Park accommodation. Satara is one of the world's best places to spot Lion....
more