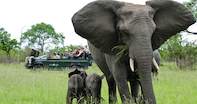 This collection of safari trips at Private Safari Lodges in Greater Kruger Park takes place in the best private game reserves bordering Kruger National Park, sharing an unfenced border allowing wildlife to move freely. Unlike in Kruger National Park, no day visitors are allowed in the private game reserves, guaranteeing exclusivity while on safari.
Each private safari lodge has something unique to offer, but all share a common superb wildlife experience. Guided game drives allow the opportunity to see the best Kruger Park wildlife including the Big Five.
Another advantage to these private safari lodges is the rangers are permitted to drive off-road - which is strictly prohibited in Kruger National Park. This means you can get even closer to wildlife and increases your chances of seeing more magnificent creatures.
See various styles of Private Safari Lodges or let our Destination Experts assist in finding the perfect safari trip to suit you.
All safari package trips are customisable and the number of days are flexible.
Family Safari Trips

Families can enjoy a luxury safari experience with a revered emphasis on relaxation, serenity, and of course, their children's safety. With experienced childminders on-site and children-friendly activities, parents can rest assured that their brood is well taken care of while they enjoy the fantastic amenities each safari lodge has to offer.
Parents can retreat to beautiful spa facilities or enjoy a scenic game drive while the little ones get the chance to experience nature through specialized kid's safari activities.
These private safari lodges offer a truly unique and intimate safari holiday for those who want to create lasting family memories in nature. Paired with luxury accommodation, delicious meals and highly-trained, friendly personnel, you and your little ones will feel at home at any of the sophisticated, family-style safari lodges.
Bring the Whole Family
Family Treasures
Luxury Family Safari
Romantic at Heart

Love and romance in the African bushveld come to life at Sabi Sand Game Reserve, bordering Kruger National Park, where couples can unwind in the luxurious and beautiful natural surroundings of romantic safari lodges dedicated to your personal love story.
Intimate accommodation, fabulous meals, personalised spa treatments and romantic safari excursions await you and your loved one as you celebrate an anniversary, embark on honeymoon or simply want to indulge in a getaway dedicated to your love.
Romance and Spa Safari
Sabi Sands Honeymoon Safari
Romance Under Canvas
Intimate Encounters Honeymoon Safari
A River Runs Through It
Destination Wedding Safari
Stylish Luxury Safari

Where extraordinary wildlife and absolute style meet is where you'll find Sabi Sand Game Reserve, renowned for its affluent and luxurious safari experiences.
Guests who revel in opulence and splendour will be delighted to find what their tastes call for at modern safari lodges with a sense of relaxation and class, perfect for stylish travellers.
Game drive excursions are done with luxury and comfort in mind, creating a lasting impression of beauty and grace on safari. Luxury accommodation set in the scenic bushveld, beautifully prepared meals and splendid spa treatments await guests who enjoy absolute elegance and attention to detail.
Room with a View
Endless Horizons
Exclusive Serenity Safari
Safari on Rivers Edge
Designer Safari and Spa
Premier Safari Trips

If you are looking for an exclusive, exceptional safari retreat meant to indulge the senses in the liveliness of the African bushveld, look no further than the heart of Sabi Sand Game Reserve, where specialized safari lodges are designed to cater to your every need.
Terrific game drives, thrilling game walks, ample wildlife sightings, friendly staff and imaginative meals at various locations are just the beginning of the superior service you'll experience at Sabi Sand.
Guests can be assured that a stay at any of these ultra-luxury safari lodges will be nothing short of magical. Exclusive accommodation and modern furnishings will entrance and delight any traveller ready to experience an exceptional safari.
Ultimate Extravagance
Modern Elegance
Safari and Beach Holiday
Organic Opulence Safari Package
Exceptional Pampering Safari Spa
Safari Decadence
Authentic Classic Safari Trips

Private Kruger Park Game Reserves offers a classic safari to travelers ready to experience an outstanding wildlife excursion in the African bushveld. This area is famous for its exceptional wildlife sightings, so guests are ensured some magnificent animal encounters. Daily game drives, safari walking tours and amazing meals prepared by friendly staff members add to the relaxing ambiance of any safari lodge, as all your needs are taken care of.
Beautiful accommodation and professional service are guaranteed at these classic safari lodges, geared towards offering guests a modern and elegant holiday. The number one priority is the comfortability and relaxation of guests, with emphasis on creating the ultimate safari experience.

Classic Sabi Sand Safari Package
Kruger Park and Sabi Sands
Authentic Kruger Safari
Tranquil Kruger Safari Hideaway
Back To Nature Safari Trip
Step Back in Time

The traditional 'Out of Africa' experience is one many guests look for - and these private safari lodges are the ideal destination to travel back in time and experience architecture of a time long forgotten set in the scenic African bushveld.
Modern amenities blend seamlessly with 19th-century charm at these South African safari lodges that offer an authentic traditional safari of old but in modern luxury.
These safari trips offer comfortable and luxurious accommodation, as well as daily game drives and scrumptious meals with an emphasis on elegance and old-world beauty.
Original Kruger Safari
Out of Africa Safari Trip
Old Meets New Luxury Safari Package
Safari Rail Journey to Victoria Falls
Cape Town and Sabi Sands Safari Trip
Exclusive-Use Safari Lodges

If you want a relaxing break from the hustle and bustle of city life and enter the quiet space of the African bushveld, the Sabi Sand Game Reserve is the ultimate destination for exclusivity where nature and modern accommodation blends seamlessly.
The intimate and private safari lodges of the Sabi Sands offer guests a chance to escape into nature and experience fantastic game drives at their leisure.
Stepping into the bushveld surrounded by your chosen group of travellers and only the beauty of nature is the perfect safari holiday for families, friends and those looking for a private safari excursion.