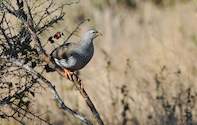 Pretoriouskop is the oldest camp in the Kruger National Park and is also child friendly. Lucky visitors might be able to see the entire Big 5 in Pretoriouskop.
Pretoriuskop and Surrounds
Pretoriuskop Rest Camp is the oldest camp in Kruger National Park, and the only one that contains non-indigenous plants. The colourful bougainvillaea and red flamboyants were planted by Harry Wolhuter, the first ranger in the Park.
Pretoriuskop was a stopover on the route from Lydenburg to Delagoa Bay (Maputo) by the transport riders of the 1800s.
Pretoriuskop gets its name from the Voortrekker, Willem Pretorius, who died here in 1845, and was buried by João Albasini. His grave can be seen after you enter the Park on the main Skukuza road (H1-1)
Travelers and transport riders used Pretoriuskop because of its altitude. Situated high above the malaria and tsetse-fly ridden lowveld, it was judged as a safe resting spot.
The nice temperatures of Pretoriuskop make it the ideal place to visit during the hot summer months, from October to March. Pretoriuskop is a child friendly camp with a large swimming pool. To the south of the camp is the mountain Manungu (689m), named after a local chief of the same name who ran a trading store and livestock camp.
As part of Albasini's retail network, Chief Manungu traded with transport riders and other travellers moving between the mining towns of the interior and Delegoa Bay. Further to the south-west is Legogote Mountain, which stands on Kruger Park's border. It has been used as a navigational landmark by people who traversed this territory for over thousands of years.
The San (Bushmen) rock art paintings in this area show how the San lived and hunted here long before the first black and white migrants.
Pretoriuskop Camp is the oldest Rest Camp in the Kruger Park and holds a large population of White Rhino. Accommodation at Pretoriuskop Rest Camp in Kruger National Park...
more