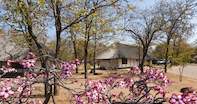 © Roger de la Harpe
These Kruger National Park Rest Camps offer chalets, bungalows, huts, cottages and guest houses with basic amenities, ideal for families and groups wanting affordable self-catering accommodation in Kruger Park.
The main rest camps in Kruger National Park have facilities including a first-aid centre, a shop, braai and communal kitchen facilities, a restaurant or self-service cafeteria and a petrol station. You can stock up on everything you need while staying at your self-catering accommodation, or you can dine in the restaurant.
These rest camps in Kruger Park have a pool - something the kids will love: Berg-en-Dal, Letaba, Lower Sabie, Mopani, Olifants, Orpen, Pretoriuskop, Punda Maria, Satara, Shingwedzi and Skukuza.
All rest camps in Kruger Park have day visitor areas and there are many picnic spots for visitors doing a self-drive safari. For a more private yet still affordable self-catering accommodation away from the crowds, try the private Satellite Camps and Bush Camps in Kruger Park.

Berg en Dal Rest Camp in Kruger National Park is one of the 'new generation' camps. Learn more about Berg en Dal Rest Camp situated on the bank of Matjulu Spruit and is surrounded by rocky hillsides.

Crocodile Bridge Rest Camp is situated just a stone's throw from the Mozambican border and Maputo. Find out more about Crocodile Bridge Rest Camp in Kruger National Park rich in local history.

A green and thriving oasis, Letaba Camp offers comfortable accommodation in Kruger Park. Visit Letaba Rest Camp and experience excellent Elephant and bird viewing.

Lower Sabie Rest Camp in Kruger Park is on the banks of the perennial Sabie River. This Rest Camp in the Kruger Park can be visited all year around and draw a variety of animals.

Mopani Rest Camp is the newest of all the rest camps and commands a spectacular view over the Pioneer Dam. Visit Mopani Rest Camp and experience the unique 'sleep-over' game-viewing hide.
The panoramic view from Olifants Rest Camp provides a perfect vantage point from which to spot wildlife in Kruger Park. Come and explore Olifants Rest Camp and experience this warm and welcoming rest camp.

Orpen Rest Camp is set amongst rock gardens vibrant with Aloes and Barberton Daisies. Visit Orpen Rest Camp situated at the Orpen Gate entrance in the Kruger National Park.

Pretoriuskop Camp is the oldest Rest Camp in the Kruger National Park. Facilities include a restaurant, pool, shop and picnic area. Find out more about Pretoriuskop Rest Camp

Punda Maria Rest Camp has lush vegetation which attracts a wide variety of rare bird species and wildlife. Learn more about Punda Maria Camp that lies in an area of fascinating history.

The ambiance of Satara Camp recalls the mood of yester-year Africa with red-roofed public buildings. Visit Satara Rest Camp, the best camp for viewing lions, leopards, and cheetahs.

Shingwedzi Rest Camp in Kruger National Park is situated in prime elephant and buffalo country where large herds can be found. Learn more about Shingwedzi Rest Camp and enjoy a variety of accommodation in Kruger Park.

Skukuza Rest Camp is the biggest camp and includes facilities such as a shop, ATM, internet cafe, restaurant, library, fuel station and more. Come and visit Skukuza Rest Camp, the capital of Kruger National Park.