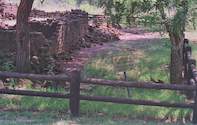 The Albasini Ruins.
Access to Albasini Road is simple. You can get onto the road through the Numbi Gate or Phabeni Gate entrance.
Albasini Road (S3):

One of the main features on the S3 is Shabeni Mountain, the largest undisturbed rock face in Kruger Park. One of the most exciting drives in Kruger Park is the loop around Shabeni (S1 - S7 - S10), including the Mestel watering hole on the Albasini Road.
You can either travel along the loop back to Pretoriuskop or continue on the Albasini Road through the stunning granite koppie landscape towards Phabeni Gate.
Along this road is the site of one of the world's longest-running experiments. Starting in 1954, the study has been investigating the interaction between fire and rain and its impact on tree and grass growth.
You should
look out for Baboon and Klipspringer
on the ridges and jackal buzzards soaring above the rocks along the Albasini Road.