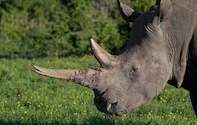 The Berg en Dal area has the highest rainfall in the Kruger Park, which means there is a great diversity of plant life, including the Zulu milkberry and the Cape chestnut among others.
The drive to Berg-en-Dal (S110) takes you into the granite koppie region of the south, where you will be
surrounded by some of the oldest rocks
in the World. The most impressive of these is Khandizwe Mountain (839m), which is the highest point in Kruger National Park.Like Pretoriuskop, this area has the highest rainfall in Kruger Park, which means there is
a great diversity of plants
, unlike many of the regions in Kruger National Park. The plants include Zulu milkberry (manilkara concolor), red ivory (berchemia zeyheri), Cape chestnut (calodendrum capensis) and white pear (Apodytes dimidiata).You should look out for
Klipspringer and Mountain Reedbuck
which is not found elsewhere in Kruger Park. A bonus is that Leopard will usually have lairs in the koppies (hills). Along the road (S110), under Matjulu Hill (627m) is a waterhole where white Rhino, Kudu and Giraffe often get a drink of water.Wild Dog and Hyena sightings have been reported. The densely wooded environment does not favour Lion or Cheetah. A good stopping site is Steilberg Road (S120) where you
see the breathtaking views
of the mountains in the west and the flat plains in the east. Berg-en-Dal is the only area where you will find the southern grey Rhebok.
The Berg-en-Dal region is rich with reminders of the Late Stone Age and Iron Age. When construction work began on the Berg en Dal Rest Camp in the early 1980s, potsherds and bones were found dating back hundred of years.
The modern face brick design may not be to everyone's liking, but the location is one of the best in Kruger Park,
midst granite foothills
with views over the south-western plains of Kruger.There are approximately 100 rock art sites in this south-western corner of Kruger. Because
rock art sites need to be protected
, access to these sites is only allowed when you are with a guide. The only way to San view rock art is to go the 3 day Bushman Trail, but you will need to book this popular trail a year in advance.
Berg en Dal is one of the newest camps in the Kruger National Park and offers visitors outstanding accommodation and lodging facilities....
more