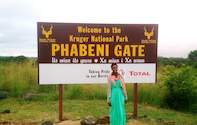 Phabeni Gate in Kruger National Park is the best way to get into Skukuza from Gauteng.Routes from Phabeni Gate and Paul Kruger
East along the tarred Doispane Road towards Skukuza (S1)
South on the Albasini Road (S3) into the granite foothills around Pretoriuskop
North on the Sabie River Road (S3) joining the main Skukuza Road near Kruger Gate
Phabeni Gate in Kruger National Park is the best way to get into Skukuza from Gauteng. Phabeni Gate was constructed in 2002 to ease entrance into the Park for people coming from Johannesburg or Pretoria via Hazeyview.
Its African architectural style embodies new South Africa ambience and the 3
indigenously themed rondavels
(huts) at the gate are an interesting contrast to the usual thatch and brick aesthetic of most buildings in the Park.Historically,
Phabeni was a Swazi chief
who named the stream after himself. This is the stream you cross shortly after entering Phabeni gate. Often you will experience good game viewing in the immediate vicinity of Phabeni.Within 100 metres of the entrance one finds the Albisini ruins and the remains of Joao Albasini's trading store from 1846, which he bought from Chief Magashula for 22 cows. This is
a good place to get out of the car
, stretch your legs and get a sense of the surrounding bush.The humble display gives one an
insight into Albasini's rough and ready life
and the kind of creature comforts one would use in such a remote location as it was in the late 1800s. The trees you will find in this are Knob Thorn Acacias, Marulas and the Bushwillow species.
Wildlife Rhythms
While there are some
really good sightings of the Big Five,
you cannot forget some of the other amazing animals. Some of these animals include Impala, Giraffe, Kudu, Hippo, Klipspringer, Nyala, Warthog and Bushbuck.
Phabeni to Paul Kruger and on to Skukuza (S3)
The northern S3 tracks the Sabie River which is the border of Kruger Park and it's reported to be
one of the best roads to see white Rhino
. The riverine bush feeds browsers such as Giraffe and Kudu; sometimes there are sightings of Nyala, even though they prefer the extreme north of Kruger Park.There are some thickets of Tamboti,
Sycamore Fig and Leadwood rich with birdlife.
There isn't too much development on the opposite bank of the Sabie River so the feeling of being in the bush is not compromised.There are
2 spots where the road gets to the river's edge
, and the drive usually traverses riverine bush crossing quite a few streams that flow into the Sabie River.Despite the road being partly tarred, it is
recommended to not take route
after heavy rains. At the Kruger Gate you can get onto the main road to Skukuza.