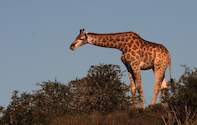 Nyala, Kudu and Giraffe are the dominant browsers of the Shingwedzi area and Lion and Leopard are active in the flood plain woodland because of the high diversity of prey.Routes from Shingwedzi
The Mpholongolo Loop
Kanniedood Dam
Red Rocks Loop
Shingwedzi Rest Camp provides a rugged, bushveld atmosphere. It is situated close to 3 major rivers, the Shingwedzi, the Mpholongolo and the Manzemba. This camp offers panoramic views over the floodplains of Shingwedzi, home of the biggest Elephant in the Kruger Park.
Facts on Shingwedzi
Vast alluvial flood plains with pockets of ancient gallery forests within the broader habitat of mopane scrubveld
Shingwedzi is renowned for its big tuskers usually seen in the riverine forests
Nyala, Kudu and Giraffe are the other dominant browsers
Lion and Leopard are active in the flood plain woodland because of the high diversity of prey
Mphongolo Loop is a tree lover's drive with lots of Elephant and Buffalo
Kanniedood Dam is excellent for birding enthusiasts
Shingwedzi rest camp lies close to where hungry opportunists once panned for gold and is today one of the best camps from which to spot elephant...
more