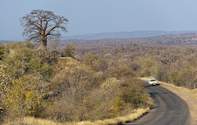 © Roger de la Harpe
The far north of Kruger is unique. This is because it is in the tropics, and the geological base is sandstone rather than the granites and basalts that underlie the rest of the Park.
Game viewing routes in The Far North
About the Far North
From Punda Maria
Klopperfontein to Parfuri
Luvuvhu and Nyala Drives
Makuleke Wilderness
Pafuri Area
Pafuri Gate
Punda Maria Gate
The Mahonie Loop

See Kruger Park Far North Self-drive Map
Most of the extreme north-west of Kruger is classified as sandveld, which, as the name suggests, consists of very sandy, well-drained soils supporting a complicated mass of plant communities in which no particular tree or plant is dominant. Unlike other geological formations in the Park, some sandveld sediments are not part of the original landscape, having been deposited in northern Kruger by raging wind storms blowing in from the Kalahari several million years ago.

Habitat Pointers
Sandveld between Punda and Pafuri
Dense mopane woodland around Punda
Tropical riverine forest along the Luvuvhu and Limpopo rivers
Shrub mopane to the east of the Punda-Pafuri main road
Mountainous sandveld west of Pafuri
Lots of baobabs
Far northern Kruger lies on a fault-line known as the Limpopo Mobile Belt, which is the joint between the Kaapvaal Craton - the crust of the earth supporting South Africa - and the Central African Craton to the north. The hot springs in the Pafuri area are evidence of water being heated through cracks from deep below the earth's surface.
Antelope of the North

The riverine forest along the Luvuvhu River is the best place to see nyala in South Africa. They are tropical animals that look like a cross between a kudu and a bushbuck. They are the hairiest African antelope.

The Luvuvhu River valley is also suited to bushbuck, rarely seen in Kruger because they keep to the thicker bush and browse mostly at night. The bushbuck males are known to be pugnacious animals that will turn suddenly on an attacker.

According to former Kruger information officer PF Fourie, bushbuck have been known to kill leopards and even humans trying to hunt them. The northern sandveld is one of the best places to see eland in Kruger.

Small herds are found in the drier areas away from the river. The eland is the largest African antelope and is one of nature's gentlest animals. It is the most frequently depicted animal in southern African rock art.