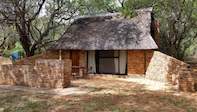 Berg en Dal Rest Camp in Kruger National Park is one of the 'new generation' camps. It is situated on the bank of Matjulu Spruit and is surrounded by rocky hillsides.
Game drives and bush walks are available
Bungalow, guest house, camping and caravan site accommodation
View San rock paintings sites in the surrounding hills
The buildings in Berg en Dal Rest Camp, Kruger National Park are set within natural bush and the gardens planted with flowering shrubs and aloes, leaving much of the natural habitat unchanged within the camp. Berg en Dal is one of the newest camps in the Kruger National Park and offers visitors outstanding accommodation and lodging facilities.
Berg en Dal Rest Camp, Kruger National Park, was opened in 1984, meaning 'mountain and dale' aptly named for its superb location. Great care has been taken to preserve the natural vegetation in the camp area, which comprises Malelane Mountain Bushveld (woodland), attracting a variety of grazers. The area hosts White Rhino, Kudu, Impala, Giraffe, some Elephant, Reedbuck, Klipspringer, Grey Rhebok and warthog.
Leopard and Wild Dog are regularly seen in the region. Lion are usually found in the lower plains on the roads to Skukuza and Crocodile Bridge. Bird watchers will find the appeal of Berg en Dal Rest Camp irresistible as a wide variety of birds species can be seen here.
Well qualified Kruger Park safari guides can offer suggested intineraries and take guests on morning, evening and full day game drives/walks, to track down the Big Five. Berg en Dal Restcamp, Kruger National Park, comprises of modern 6 bed family cottages, 2 and 3 bedded bungalows and 2 guest houses with multiple bedrooms.
The more adventurous traveller can make use of one of Berg en Dal's camping sites for caravans and tents, each with a power point and braai (barbecue) stand. While Berg en Dal Rest Camp in Kruger National Park allows for open air cooking, those who prefer a less rugged eating experience can make use of the restaurant and cafeteria with a view across the Matjulu dam. Attractions include a well stocked grocery shop, a laundromat and petrol (gas) station. Residents and day visitors can also make use of the designated picnic facilities.
Attractions in Kruger National Park include traditional dance groups from various cultural communities neighbouring the Park, who also regularly entertain guests. Berg en Dal Rest Camp in the Kruger National Park has a large swimming pool with water cascading into it over walls of natural rock. Berg en Dal Rest Camp also boasts conference facilities, which can cater for up to 300 people in a hall that can be divided by soundproof partitions.
San (Bushman) paintings, the only remnants of the traditional San (Bushmen) people who once lived and hunted in this area, can be viewed in the surrounding hill shelters along the Bushman trail. The new Kruger Mpumalanga International Airport lies just 25km (15.5 miles) from Nelspruit which is half an hour's drive from the Malelane Gate off the R570 and N4. Or, if you are up for it, take a mere 4 hours scenic drive from Johannesburg.
Berg en Dal Rest Camp Facilities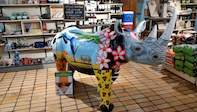 Laundromat
Cell Phone reception
Petrol/Gas station
Picnic facilities
Cafeteria; shop
Film auditorium
Conference facilities
Basic first aid assistance
Emergency road service
Public telephones; post box
Limited DSTV only available in the Guest Houses
Swimming Pool (for overnight residents only)
Communal kitchen and ablutions