This Kruger Park Map of the Central Grasslands region around Satara will help you plan your game drive safari through the Grasslands.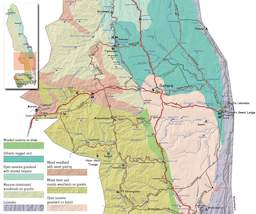 Lions and Vultures
The chances of coming across a kill is far higher in central Kruger than almost anywhere else in the Park. The eastern half of the central grassland consists mostly of wide open basalt plains that support nutritious grazing and limited tree growth.

This means plenty of grazers; antelope and zebra, and therefore plenty of lions. And with all the resulting carcasses, plenty of vultures The grasslands are contained to the east by the central Lebombo, which has its own unique ecosystem.

The quality of grazing on the granite soils of the western grasslands is not as good as that of the basalt to the east. The western grasslands are more heavily treed, with pockets of bushwillow, knob-thorn and marula woodland. There are no major rivers running through the central grasslands, but there are a number of secondary watercourses, the main ones being the N'wanetsi, Sweni and Timbavati. Most of Kruger's larger raptors are found in the central grasslands, which have the biggest vulture populations in the Park.