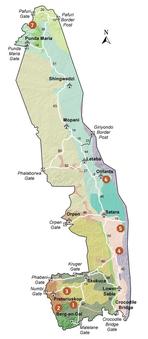 Most of the private and public rest camps in Kruger offer guided walks of a few hours through the bush. The early-morning walks are the best, and usually include breakfast. Bookings and payments may be made at the reception desk at each camp.
KEY

1. Wolhuter
2. Bushmans
3. Napi
4. Metsi-Metsi
5. Sweni
6. Olifants
7. Nyalaland
One of the best ways of experiencing the African bush is to participate in one of the organised overnight Kruger Park walking trails departing from a number of outlying wilderness camps.
Hikers are accompanied by armed and experienced rangers.
Each trail has a base camp, most of which have rustic, two-bed huts and basic ablution facilities consisting of reed-walled showers and flush toilets. There is a covered lapa which serves as dining and socialising area where simple meals are provided.
There are three days of hiking with an average distance of 15km to 20km a day, with walkers returning to the base camp each evening. There is a maximum capacity of eight people per hike. Participants must be reasonably fit and be between the ages of 12 and 60. No radios are permitted.
Kruger Park Wilderness Trails do not operate between November and February because of the heat. Hikers must check into the camp nearest the hiking trail (which are detailed below) before 15h30 on the day before the hike is booked for.
They are then transported to the wilderness camp.
Walks need to be booked at least a year in advance, owing to the popularity of this activity.
Safe Trails
There have only ever been three recorded incidents in Kruger's history where guides on Kruger Park walking trails have had to shoot animals to protect hikers. In none of the cases were any hikers injured. In 1983, ranger Trevor Dearlove's party came across three lions on a buffalo carcass during a walk on the Wolhuter Trail.
The group was caught by surprise when an aggressive white rhino unexpectedly emerged from behind an anthill. It lowered its head and charged at the bewildered hikers, but Dearlove's reflexes were quick enough to raise his rifle and pull the trigger.
The rhino collapsed in its tracks, 10 metres from the group. In the other incidents, a ranger shot dead another aggressive white rhino on the Bushman Trail and a charging buffalo was killed by a ranger on the Nyalaland Trail.