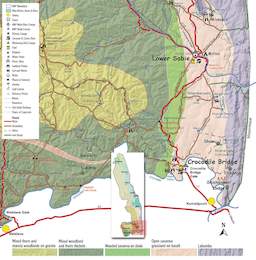 This Kruger Park Map of the South-east region will help you plan your game drive safari around the south-east.
Giraffe and Lion and White Rhino
There are a variety of habitats in the south-east, including the rugged Lebombo koppies, the open basaltic plains, mixed woodland and thorn thickets along the watercourses. The grasslands around Lower Sabie are usually reliable for large herds of zebra and buffalo, Crocodile Bridge area is good for giraffe and lion while white rhino are invariably seen grazing along the
Nhlowa Road
.The black rhino is the choice sighting of the south-east, but it is rarely seen, spending most of the day deep in the thorn thickets. The best chance of seeing leopard is to stay at Shishangeni Lodge in the Mpanamana concession, which offers game drives into the hidden kloofs and gorges of the Lebombo.