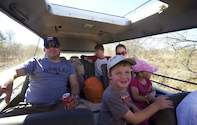 Advice on taking young children to Kruger Park on a safari family holiday in Kruger Park. Best routes, activities and accommodation for children on safari.
Self-Drive Advice
The south of Kruger National Park is more child-friendly than the north in that the distances are not so great between get-out points, the landscape is varied and the game is more plentiful. Because of the hazard of malaria it is advisable to take only children above the age of five into the park and to get medical advice before visiting Kruger.
If travelling with children, it's best to choose areas which are less than an hour's drive into the park.
Crocodile Bridge Gate is probably the best gate to enter through if you have young children. This is because of the likelihood of seeing large numbers of game fairly soon after entering the Park and the fact that it is only about an hour's drive to Lower Sabie which is a child-friendly safari environment and a good place to stop for lunch and to use the facilities if you are self-driving through the park.
Family Safari Packages
See
Kruger Park Family Safari Package
options which include:
Our
Destination Specialists
can also tailor-make a safari package just for your family. Just advise us of how many days you have to spend on holiday and the number of children and their ages. We will recommend an itinerary that will be age-suitable for your kids and enjoyable for adults too.