From 21,900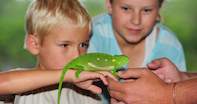 Just like having your own Family Safari Lodge in the bush, this exclusive home from home on a private concession in the Kruger Park, is especially suitable for parents who want to introduce their children to nature and a Big Five safari on a private basis.
Kruger Family Safari Experience
Personalised attention, your own chef and ranger - what more could you want? This getaway includes all a family needs for a memorable and fantastic vacation. Choosing to stay in your own family safari lodge is an easy way to save on costs and enjoy a private safari experience. The kids can run around and do their own thing whilst you relax in comfort and style in one of the most spectacular destinations in the world, the Kruger National Park.
On this Kruger family safari, your little ones will be cared for and entertained at your family safari lodge, while older children and parents enjoy Big Five game drives and also sun-downers together in the bush. At the lodge, you can cool off in the rock swimming pool and savour sumptuous high teas and meals. Start a family tradition and make this your Kruger Park Safari escape!
Day 1: Kruger National Park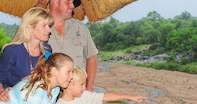 You will be meet at Skukuza and transferred in a private vehicle to the Kruger National Park. If you arrive early enough, you can be in time for lunch at your family holiday safari lodge and later enjoy a thrilling afternoon game drive.

You have the lodge all to yourselves and the luxury of your own chef and game ranger who will co-ordinate everything. Choose a time to discuss with the lodge staff what activities you would like to do and the kinds of meals your family would really like.

They will guide you on how to make the most of your family getaway. This is your home away from home for the next 2 nights! Once you have unpacked and settled in, explore your surroundings - the suites have wonderful features and you can even have an outdoor shower which is a truly unique bush experience.

The views over the Biyamiti River and unspoilt bushveld can also be enjoyed from the comfort of the central lounge. Sit back and relax, you're on Kruger Park safari!
Day 2: Safari Time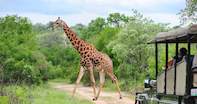 Rise early for the first morning game drive on your exciting family safari in Kruger National Park, South Africa. Snacks, tea and coffee will be ready to set you on your way. Your knowledgeable ranger will take you on an unforgettable journey.
Traversing through the reserve, the wildlife is sometimes staggering in its diversity. Keep your eyes open, for anything is possible in this exciting wilderness! On return to your lodge there will be a superb breakfast spread laid out - this is the life!
The rest of the day's activities are up to you and your family. You could take a nature walk with your ranger and learn about the incredible flora and fauna, visit the spa for a superb massage or splash around in the beautiful rock pool.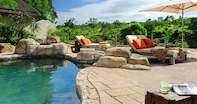 An alfresco lunch can be enjoyed before a lazy afternoon siesta or family fun and relaxation time. High Tea is always welcome when you have hungry children! This is a good idea too if you are going on an evening game drive. Your ranger will stop for sun-downers on the way and share some tales about the bushveld.

En route back to the lodge, nocturnal animals such as leopard, hyena and lion are often seen. After freshening up, dinner is a sumptuous affair, the chef and his dedicated team conjure up traditional dishes inspired by this unique location.
Day 3: Depart Kruger National Park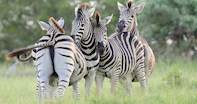 This is the last day of your family safari in the Kruger National Park. Slowly start packing your bags and getting the kids ready for their last game drive in the Kruger National Park. After an exciting morning game viewing activity and breakfast, you will pack up and say goodbye to your family holiday safari.
Included
Return road transfer between Skukuza and your family safari lodge
2 nights accommodation at a family-friendly safari lodge
All meals including breakfast, lunch, high tea and dinner as per itinerary
Tea, coffee, bottled water
Daily morning and afternoon/evening game drives accompanied by experienced ranger and trackers
Kruger National Park conservation and entrance fees
Child minding and special kids program
Not Included
Optional activities
Drinks and all other extras to be settled direct
Children on Safari in Kruger Park
Although children under 3 years of age are not allowed on any game drives, there is a special kids program to keep them busy while the rest of the group are out on safari. The game drives are quite long for younger children so they will have a much better time playing with lodge staff during the game drives!
Game drives for children between the ages of 3 and 6 years will be conducted with their parents in closed vehicles as per Kruger Park regulations. The open vehicle will also still be available for game drives if the rest of the group wants to make use of it at the same time.