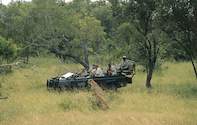 Game viewing in the Kruger National Park is a wonderful experience! This great safari destination caters for every kind of traveller wanting to experience the thrill of seeing African wildlife.
Guided Game Viewing Experience at Private Game Lodges
If you are looking for something more personalised and exclusive, then a Guided Lodge Safari at a Private Game Lodge is for you. With this package you can have an intimate game viewing experience in private areas of the Kruger Park that are not open to the public.
You and just a few other guests set off with your ranger and tracker on unique off-road game drives and thrilling bush walks at the very best times of the day. Superb accommodation, food and service round off your Guided Lodge Safari in the Kruger National Park.
Self-Drive Game Viewing Experience
You and your family can enjoy a Self Drive Safari and explore the routes of Kruger Park in your own vehicle during the daytime. A Kruger Park map is available which shows where you can have a bite to eat at special picnic spots along the way, as well as designated waterholes that are suitable for game viewing from the comfort of your car.

Read questions and answers in our Help on Self-Drive guide
Guided Lodge Safari
Enjoy personal attention in small groups on game drives in private concessions. Stay in one of the Private Game Lodges that are off-the-beaten-track. All your game viewing activities are included in the daily rate or package, so you can put your feet up and relax!
There are lots of advantages to a Guided Lodge Safari which start from the moment you arrive at your lodge deep in the bushveld. Wildlife can often be seen from the decks so you can sit back with a drink and watch the game in comfort.
Game Viewing Activities
Game drives are conducted in custom 9-seater safari vehicles which have an overhead cover to protect you from the sun and raised seating for excellent game viewing. You can talk to your safari guide at stops en route while your skilled tracker looks for signs of movement left by game in the bush.
Enjoy sunrise and sunset game drives which are the best times for game viewing - late afternoon drives stop at a special site and you can have sundowner drinks in the bush.
Certain lodges offer guided bush walks - your guide will show you many fascinating things and tell you a secret or two about the bush. Private concessions are not open to the general public and there are no self-drive day visitors. Your ranger will take you on private roads, and there is also controlled off-road game viewing which is a great way to get closer to the wildlife.
Vehicles at game sightings are fewer in these concessions and this means that you have a front-row seat for all the action.
Self-Drive Safari
Not only is a self-drive safari affordable but it also gives you the flexibility and thrill of spotting African wildlife at your own leisure. Once the entrance and camp gates are open you are free to self-drive throughout the Kruger National Park as long as you stay on designed roads and routes.
Roads are tarred or gravel and you may never drive off the official roads to get closer to the wildlife. If you need to stretch your legs there are several designated picnic spots and waterholes en-route. Waterholes are a great place to stop and be on the lookout for thirsty wildlife.
Optional Game Viewing Activities
Although most of your game viewing will be done by yourself in your own vehicle - you should take advantage of the guided optional game drives and bush walks. It gives you the chance to experience best of both worlds and see the bush differently. Let Siyabona Africa arrange your entire self-drive safari from organising your car rental, pre-booking all your accommodation to selecting optional game drives for you.
Safety at All Times
Caution: Wild animals abound. You are also strongly advised to not get out of your vehicle at any time. On approaching any animals, you should keep your windows closed.
Wildlife
Want to learn more about the African wildlife you will see on your South African safari in Kruger National Park? Read these interesting wildlife articles: