© The Kruger Park "Wish-you-were-here" Experience
Discover some of our most popular luxury, honeymoon and family safaris in Kruger National Park.
All our Kruger Park safari package holidays include meals and game drives. These itineraries can be tailor-made to suit your time and budget. Our Kruger Park Specialists will create the perfect safari just for you.
Luxury Safari Lodge Accommodation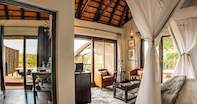 Private Luxury Tented Safari Experience a unique and exclusive safari experience. From silver service dinners to luxurious slipper baths and king size beds...
Deluxe African Safari Escape This once a private holiday haven is now open for the discerning traveller to enjoy the luxurious splendour of this exclusive retreat...
Cultural Luxury Safari This Kruger Park safari is a rare opportunity for you to experience the thrill of the African bush in absolute luxury, as well as exploring a rich cultural experience...
Luxury Fly-In Safari to Kruger Park No other experience could compare to the breathtaking views, 7 days of thrilling adventure and exploration, exciting outdoor life in the world-renowned Kruger National Park...
Kruger Park Romantic Lodge Safari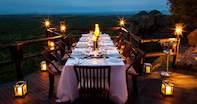 Exclusive Romance in Africa Safari This South Africa safari comes with ultra-luxurious lodge accommodation. Here you can enjoy exclusivity and privacy with exceptional game viewing and delicious cuisine...
Unforgettable Romantic Wedding Safari Experience the wedding of your dreams at a bush sanctuary of note, offering world class accommodation, spectacular wildlife sightings and first class service...
Memorable Luxury Safari Experience An absolutely-out-of-this-world safari experience, perfect for honeymooners and ideal for exclusive groups in the game rich Sabi Sand Game Reserve...
Romantic African Wilderness Safari This luxury tented safari camp is small and intimate, in a placid river-side setting, provides for an ideal romantic escape. Combined with authentic safari activities and awesome cuisine.. ..
Kruger Park Family Lodge Safari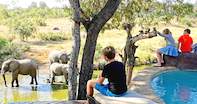 Kids Elephant Adventure Package This is truly the African family safari of a lifetime focusing on Elephant interaction and fun adventure activities. This is a self-drive package, so you can see the wildlife of Kruger National Park at your leisure.
Exclusive Family Lodge Safari in South Africa Enjoy an authentic african safari experience in luxury and privacy at this Kruger Park Camp. There is also a variety of exciting family safari activities available that teach children about the bush...
Family Safari in Africa The ideal base for the perfect South Africa safari for families. Children can go on guided nature walks around the camp with experienced rangers...
Luxury Family Safari in South Africa During this African safari you can take in stunning sunsets, breathtaking vistas and spot the wildlife running free. There are also lovely activities for children on this African safari...