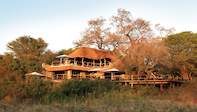 The Kruger National Parks offers a variety of accommodation types to choose from; catering for every kind of traveler.
What Types of Accommodation are in Kruger Park?
The Kruger National Park has an accommodation style to suit every traveller!
There is a broad spectrum of accommodation to choose from and much will depend on the level of comfort and experience you require. Those who are quite happy to rough it can certainly do so, and likewise visitors looking for something more exclusive will also find just what they want. Families have a range of options available to them at all levels.
The Kruger National Park boasts Private Game Lodges built within the boundaries of the National Park - these are called Concession areas. The Private Luxury Safari Lodges within the Kruger National Park offer you a fully inclusive safari experience including luxury accommodation with en-suite facilities, daily morning and evening game drives in open-safari vehicle as well as all your meals.
Private Game Lodges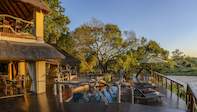 ©Roger de la Harpe
Jock Safari Lodge in Kruger Park.
Private Game Lodges in Kruger National Park are defined by high comfort, personalised attention and private facilities. Some lodges offer permanent luxury tented safari suites while others feature thatched en-suite rooms in various settings.
You pay one daily rate or package rate which includes specified meals, drinks, game viewing activities and recreational facilities. The lodges are all individually hosted and situated on private land concessions within the Kruger Park which offer excellent game viewing.
These luxurious and exclusive private game lodges offer 5-star accommodation, services and game activities. Each lodge is unique, where personalised luxury is the order of the day. A number of lodges can cater for visitors that are wheel-chair bound. You can look forward to beautifully decorated en-suite accommodation in a thatched suite, or tented safari suite which is built on a fixed platform.
Each suite has its own deck and in some cases a private plunge pool. Guests enjoy high quality linen, towels and toiletries and there is a laundry and turn-down service provided. The Suites are serviced daily and equipped with a variety of comforts such as bottled water, a hairdryer and international adaptors, a safe and insect repellent.
Tell our Destination Specialists what type of safari experience you are looking for and we will recommend the perfect accommodation to ensure you get the best out of your Kruger Park holiday. Read more in our FAQ on Private Game Lodges
Rest Camp Self-Catering Accommodation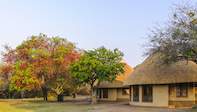 ©Roger de la Harpe
Skukuza Rest Camp Accommodation.
The standard Kruger National Park self-catering Rest Camps, private self-catering Bush Camps and Lodges and rustic self-catering Satellite Camps offer a variety of affordable self-catering accommodation types. Accommodation ranges from rustic campsites, tented camps, budget huts, cottages, to fully equipped bungalows. Accommodations exclude all your game viewing activities; which can be booked separately and all extras like meals and conservation fees.
Visitors staying at Kruger Park Self-Catering Rest Camps have the freedom to follow their own schedule for meals, game viewing and relaxing. All self-catering options are suited to visitors who can provide their own equipment and supplies. Self-catering guests can mix and match different options and camps to make a well rounded holiday according to their budget and family or group needs. In this category, the guest houses are especially suitable for group bookings because they have multiple bedrooms and bathrooms.
Most camps have communal facilities like ablutions and kitchens which are provided for guests staying in the more rustic options. All Kruger Park self-catering units have their own braai (barbecue) facility. Basic bedding, crockery and cutlery are generally available, although many visitors prefer to bring their own.
Rest Camp Accommodation Types
Guest Houses - This category contains multiple bedroom and bathroom units with lounge area and often with bar facility and exclusive view. The large luxury units are set in prime positions in the camp. There are well-equipped kitchens and some units have microwaves, air-conditioners and barbecue facilities. Limited channel DSTV satellite television is provided.

Guest Cottages - The cottages are multiple bedroom units with a fully equipped kitchen and at least 2 bathrooms of which one is en-suite. Some have air-conditioning and barbecue areas or other additional features.

Family Cottages - Family cottages are multiple bedroom units with air conditioning, a living room, bathroom and kitchen. Additional features in some units include en-suite facilities and barbecue areas.
Cottages - Most of these are single bedroom units with a living room, bathroom and kitchen. Some have an extra bedroom and en-suite bathroom, air-conditioning, veranda and outside barbecue areas.
Bungalows - These are single bedroom units with a bathroom. Most units have air-conditioning. Some have communal kitchens, while others have their own kitchenettes with basic kitchen equipment and barbecue areas. Certain bungalows have perimeter or river views, while others have been upgraded to luxury status.
Safari Tents - The permanent furnished canvas tents are set on fixed platforms (stilts) and a number of these include a fridge, fan and small veranda. Some have communal kitchen and ablution facilities, while others are fully equipped with more luxurious trimmings.
Huts - These consist of single-room units with communal kitchen and communal ablution facilities. Some units are equipped with a fridge, fan and air conditioner. There are no cooking utensils or crockery and cutlery, but the communal kitchens have sinks and electric stoves.
Camping Sites - In this category there are sites for caravans or tents. Most have power (except Balule, Tsendze and some at Punda Maria). Sites at Lower Sabie have designated boundaries and their own water taps. There are communal ablutions and cooking facilities with 24 hour boiling water, electric hotplates and washing up facilities. The camp sites are located all over Kruger National Park.
Other Accommodation Options
Selecting the right accommodation for your holiday can be overwhelming! At Siyabona Africa we aim to offer you the best safari experience possible and we have a selection of accommodation options and packages to suit your specific needs.
There are many excellent accommodation options that offer superb safari and game viewing experiences in Private Reserves which share unfenced and unfixed borders with Kruger National Park, which means the animals move freely. As it is much less congested this means that your wildlife sightings will be up close and more intimate.
There are also many bed & breakfast, guest houses, lodges, hotels, self-catering options and exclusive-use villas situated near Kruger Park which allow for easy access into the park for self-drive game viewing or guided game drives which we can arrange.
See Hotels and lodges near Kruger Park OR Contact our Kruger Park Destination Specialists and they will use their expertise to recommend the right accommodation to suit your needs and budget.