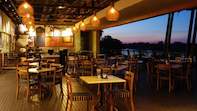 Find out about the restaurant and dining facilities at the Standard Self-Catering Rest Camps in Kruger National Park. Enjoy dinner at a restaurant or experience a Bush Braai (Barbecue) in the heart of the African wilderness or have a picnic at a beautiful spot. The choice is yours.
Kruger Park Rest Camps Dining Options
Cafeteria - Casual Dining
Enjoy a mid-morning breakfast, a quick lunch or light dinner. There are all-day breakfasts, salads, pastas, burgers, cold platters and speciality gourmet sandwiches on offer. Guests can also choose between a range of hot and cold beverages.

Available: At Skukuza, Satara, Lower Sabie, Pretoriuskop, Berg en Dal, Letaba, Olifants
Restaurants in Kruger National Park
Relax in a tranquil and elegant atmosphere in one of the restaurants at the Rest Camps in Kruger National Park. Sit back and absorb the beautiful surroundings and enjoy the great views and the fresh air. The breakfast and dinner buffets offer a wide selection.

Mugg and Bean Restaurants: Lower Sabie
Cattle Baron Restaurants: Skukuza
Tindlovu Restaurants: Letaba, Berg en Dal, Olifants
Boma Braai - Barbecue Around The Open Fire
There is nothing better than enjoying a braai (barbecue) around the boma (outdoor enclosure with fireplace) in one of the Rest Camps in Kruger Park. From 17:30 onwards, guests can indulge all their senses at a Boma Braai. The chefs prepare a delicious meal, which includes a choice of three meats grilled to perfection as well as salads, breads and desserts. Enjoy the taste of Africa.

Available: At all Rest Camps (booking essential)
Bush Braai - Bush Barbecue In The Heart Of Kruger Park
Enjoy a braai in the middle of the Kruger Park bush under the beautiful night sky. The evening starts with a night game drive through the wilderness to your destination. This is followed by a delicious meal, where great service is provided. Guests can then enjoy a meandering drive back through the Kruger Park bush with the possibility of spotting nocturnal wildlife. This is a completely unique bush experience.

Available: At all Rest Camps (booking essential)
Skukuza Rest Camp Restaurants
The restaurant at Skukuza is situated on the banks of the Sabie River. As the biggest Rest Camp in Kruger Park, Skukuza provides an array of exciting activities. Dine at the Cattle Baron Restaurant at Skukuza Rest Camp. The Cattle Baron in Skukuza offers all your favourites including steaks and chateaubriand as well as some wilder dishes like Venison and Springbok.

If you are in or near Skukuza, make a point of visiting the Kruger Station (formerly known as the Selati Station Grill House), where the old railway platform has been converted into a restaurant complete with historic coaches and steam engine.
The family-friendly 3638 Restaurant at Kruger Station delights guest with sizzling meals and is situated on the train platform in Skukuza. Come and see the original train and dine on its platform. The menu offers an array of delicious meals to appeal to all tastes including burgers, pizza, steak and mains. Get a taste for the wild and try a Crocodile schnitzel or an Impala & Warthog pie.
Kruger Station also has a bar, a coffee shop and a Grab n' Go cafe where you can get quick takeaways.
At night, let Skukuza take you on an unforgettable traditional braai (barbecue) in the bush, re-connect with nature, and join in a relaxed atmosphere at a Bush Braai or Boma Braai.
Dining Options
Kruger Station 3638 Restaurant, Bar, Cafe and Grab n' Go
Cattle Baron Restaurant
Boma Braai
Bush Braai
Berg-en-Dal Restaurants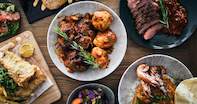 Tindlovu Berg en Dal Restaurant.
Tindlovu Restaurant at Berg-en-Dal is situated in the main complex overlooking the dam. It has large windows allowing the guests to enjoy the view whilst relaxing in the air-conditioned facility. In the evenings, guests may sit outside and enjoy the night sounds in the open fresh air.

For breakfast, guests can enjoy a full English Breakfast or a Continental Breakfast. In addition to these two facilities, there is also a large boma (outdoor enclosure with fireplace), which can be booked for braais (barbecues), private parties and special events such as weddings and conferences.
Dining Options
Cafetaria
Tindlovu Berg en Dal Restaurant
Boma Braai
Bush Braai
Letaba Rest Camp Restaurants
Guests at Letaba Rest Camp can dine in the cafetaria or Tindlovu Letaba Restaurant, which overlooks the Letaba River with stunning views of the river floodplains. If you feel like a real South African braai (barbecue), there is a boma area (outdoor enclosure with fireplace) just next to the restaurant which seats up to 50 people.
Dining Options
Cafetaria
Tindlovu Letaba Restaurant
Boma Braai
Bush Braai
Lower Sabie Restaurants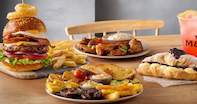 Mugg and Bean Lower Sabie.
The Mugg & Bean Restaurant at Lower Sabie Rest Camp in Kruger National Park is nestled on the banks of the Sabie River, 30km from Crocodile Bridge and 40km from Skukuza, blending in harmoniously with the tranquillity of the surroundings.

The spacious restaurant leads onto an expansive wooden deck which provides an elevated view of wildlife watering in the Sabie River. Enjoy an extensive Mugg & Bean menu which includes smoothies, milkshakes, all-day breakfasts, panini toasted sandwiches, gourmet burgers, salads, steak, ribs, vegetarian options and delicious baked treats.
Dining Options
Cafetaria
Mugg & Bean Restaurant
Boma Braai
Bush Braai
Mopani Rest Camp Restaurants
Mopani is the newest of all the Rest Camps in Kruger Park. It is situated in the northern part of the park. The air-conditioned Mopani Restaurant offers a menu selection and has a variety of delicious, freshly prepared dishes from the chef.
Breakfasts and Dinners are served in the restaurant which overlooks the Pioneer Dam where there is abundant waterbird viewing. The abundance of Crocodiles and Hippos offers much entertainment whilst dining. The adjacent bar area and patio are a perfect spot to relax, unwind and enjoy a refreshing drink whilst viewing the dam. The combination of thatch and face-brick create an African ambience coupled with the view and the delicious food, the restaurant at Mopani is definitely a must.
Dining Options
Cafetaria
Mopani Restaurant
Boma Braai
Bush Braai
Olifants Rest Camp Restaurants
Olifants Camp is definitely the most beautiful Rest Camp in the Kruger National Park, with a view overlooking the Olifants River. Staying at Olifants will definitely give you the best experience of Kruger National Park.
Tindlovu Olifants Restaurant has river views that extend far out into the bushveld. Watch the hippos splashing in the river while you enjoy a fresh meal. There is always plenty to choose from on the menu, but remember to leave space for dessert.
Dining Options
Tindlovu Olifants Restaurant
Boma Braai
Bush Braai
Pretoriuskop Rest Camp Restaurants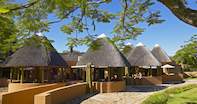 Pretoriuskop Rest Camp Restaurant.
Pretoriuskop is one of the oldest Rest Camps in Kruger Park. It was established in 1929. Pretoriuskop is situated in the southern part of the park and is 9km from the Numbi Gate. The swimming pool was the first in the Kruger National Park being built in 1956 and set in awesome surroundings. Access to Pretoriuskop is from North, South, East and West and has large sightings of White Rhino, the Sable Antelope also roam down South and are not often spotted as they are very rare.
The Pretoriuskop Rest Camp restaurant was built in October 2002 and can seat 120 people. The restaurant takes its name ''Nhlatfu' (meaning Python or large snake) from the large snake mounted on the restaurant wall. Pretoriuskop Rest Camp restaurant offers its guests a Buffet Breakfast, Lunch menu and a Buffet Dinner. There is also a Wimpy Restaurant at Pretoriuskop Rest Camp.
Pretoriuskop also caters for Bush Braais (Bush Barbecues) on two unique sites. The braai sites are totally unfenced and the wild experience at night is out of this world. Night drives at Pretoriuskop (as in all the Rest Camps) take the guest out to the Bush Braai site and are often enjoyed with regular Leopard sightings.
Dining Options
Pretoriuskop Rest Camp Restaurant
Wimpy Restaurant
Bush Braai
Punda Maria Rest Camp Restaurants
Punda Maria Rest Camp Restaurant offers breakfast, lunch and dinner in a cafeteria style setting. The Restaurant at Punda Maria is a popular choice with a menu that includes sandwiches, wraps, pies, burgers, salads and grilled meat dishes.
Dining Options
Cafetaria
Restaurant
Boma Braai
Bush Braai
Satara Rest Camp Restaurants
Grab that chilled cool drink, take a seat placed on the patio, for you to enjoy the fresh air and pleasant view. Keep the kids happy, the day pleasant and the holiday enjoyable. Come and visit Satara Restaurant where there will be a warm welcome for you and your family.
Dining Options
Deli
Satara Restaurant
Boma Braai
Bush Braai
Shingwedzi Rest Camp Restaurants
In the heart of Northern Kruger National Park, where the Lions roam freely and the Hippos laze contentedly, lies Shingwedzi Rest Camp. When you are exhausted from tracking the Big Five and need a break, get yourself seated at the Restaurant at Shingwedzi where meals are tastefully prepared while you enjoy some of South Africa's finest wines.
Shingwedzi boasts river views, where guests can spot Hippo's frolicking in the pools below the restaurant's deck. Candle lit lamps cast a subtle glow in the African evening filled with softly playing traditional local music. The evening is set for a beautiful, cozy and intimate dinner. The ambience beckons you in and the tantalizing smell of well-prepared cuisine.
Walk into the Shingwedzi souvenir shop, be greeted by friendly, helpful staff, and browse through a diverse array of curios, from ancient tribal jewellery to traditional Tsonga clothing.
Dining Options
Cafetaria
Restaurant
Boma Braai
Bush Braai
Picnics
Most main rest camps in Kruger Park have an area set aside for picnics and day visitors.
Tshokwane Picnic Site
When visiting this popular picnic site in Kruger National Park you can enjoy freshly prepared and appetizing meals with a variety of quick-to-go meals: sandwiches, sub-rolls, salads, burgers and a must Tshokwane's "specialty" ... milk tart.

Enjoy an "African-bush" feel outdoor experience with booked breakfasts and buffet lunches. Tshokwanepicnic site is situated between Skukuza and Satara and has a totally unique, rustic curio shop with something for all. Also available is a fully equipped retail store for beverages and snacks. For those hoping to braai (barbecue) Gas Skottel braai's are available for hire.
Nkhulu Picnic Site
Relax in a special part of wild open Africa. Nkuhlu is situated between Skukuza and Lower Sabi and boasts one of the largest numbers of the African Rock Python, Lion and Leopard. Enjoy the tranquility of the great Sabie River and listen to the soothing songs of magnificent birds whilst making use of a host of options on offer: Feast on a variety of juicy flavours available from the Quick Service and quench your thirst from a selection of hot and the shady trees with your family.
Gas braais (barbecues) and a wide selection of spices, utensils and other groceries are available at the retail outlet. Indulge in a true African experience and book a bush breakfast, lunch or dinner.
Add a magical touch to your home or choose a gift for someone special from a selection of ancestral hand crafted curios. Enjoy the cleanliness of the facilities and the friendliness of the staff. Your experience at Nkuhlu will be unforgettable.
Afsaal Picnic Site
When visiting the Malelane area of Kruger National Park, Afsaal Traders Rest by Tindlovu is the ideal rest area. You may have a hot cup of coffee and freshly baked treats on the fly to give you a boost of energy before starting your adventure through the park. Don't forget to purchase some mementos from the Curio Shop while you're there for the dear ones back home.