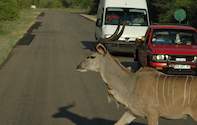 © Chris Duplessis
Kruger National Park has many day visitor areas and there are also many picnic spots and rest stops throughout the park. A detailed map is available at the entrance gates indicating the location of all these stops.
Day Visitor Guide to Kruger National Park
Day visitors are welcome in the Kruger National Park!
Before your visit, take some time to plan your trip and be realistic about how much you can drive and see in a day. The Kruger Park is huge, there are strict speed limits within the park and the distances between places may take longer than anticipated.
Choose your gate entry and exit with care, know their opening and closing times and also know in advance which picnic site or waterhole you will visit. Each gate of the Kruger Park has particular facilities available. Game viewing highlights in the area differ from gate to gate - study the information available and plan accordingly.
With so much to see and do you will need to arrange a few things - here are guidelines for visiting this national treasure:
Entry
For day visitors, entry into the Kruger Park is on a first come first serve basis and strict quotas are applicable for each gate. You are advised to get to your gate of choice as early as possible, particularly over peak season periods. These rules do not affect guests with overnight accommodation bookings.

There is a daily conservation entrance fee for all visitors unless you are in possession of a Wild Card.

At particularly busy times of the year, a reasonably priced park and ride system will be introduced at all gates. Designated parking areas will be allocated. You can "hop and ride" in safari vehicles either on a game viewing drive or go directly to the recreational picnic areas for a barbecue and relaxation.
Behaviour
Day visitors cannot bring alcohol into the park. Visitors are asked to be considerate of others at all times and to follow the Kruger Park rules around acceptable behaviour, in the interests of a safe and happy experience for everyone. Loud music, littering and speeding for the gates amongst other offenses are not acceptable in the Kruger National Park.
Gate Times
The Kruger National Park has 10 entrance gates: Crocodile Bridge, Malelane, Numbi, Phabeni, Paul Kruger, Orpen, Phalaborwa, Punda Maria, Pafuri and Giriyondo.
Kruger Park Gates Open
Nov-Jan: 05:30
Feb: 05:30
Mar & Oct: 05:30
Apr: 06:00
May-July: 06:00
Aug-Sept: 06:00
Park and Camp Gates Close
Nov-Jan: 18:30
Feb: 18:30
Mar & Oct: 18:00
Apr: 17:30
May-July: 17:30
Aug-Sept: 18:00
It is important that all Day Visitors pay special attention to the gate opening and closing times.
Picnic Sites and Restaurants
You can enjoy a great picnic and lunch stop in the awesome Kruger Park! Stretch your legs and relax -
well equipped picnic sites
are available and also a number of places on the self-drive routes. A detailed map showing the picnic sites can be purchased at Kruger entrance gates and shops.
You will find
toilets and barbecue facilities
(Cadac gas braais) at all sites. Some sites also offer a tuck shop facility where you can buy soft drinks, snacks and wood. You can also hire a gas skottel (mobile frying pan on a stand) at most picnic sites for a nominal fee.
A bonus feature is that the
picnic site attendant
will wash the pan before you depart - what a relief - no greasy pans for you to see to! Certain sites have something different to offer such as a great view, a swimming pool or a unique feature. Day Visitors are also welcome at any of the Restaurants at the Main Rest Camps.