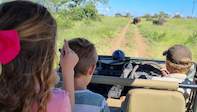 Children on safari.
Kruger Park family safari packages are all about getting together for a shared experience with those nearest and dearest to you. Family gatherings have a special place in our hearts, and getting together in the wilderness of Africa can only be memorable.

This 3-day luxury Kruger Park family safari offers a range of fun things to do beyond game drives in the search for strange and mind boggling wildlife. Children can enjoy their own private entertainment centre, including various games, jungle gyms, face painting and bush Olympics to keep them happy and active.

This 4-day Kruger self-drive safari is for active families looking to have a fun-filled vacation while staying just outside Kruger Park. Interact with a group of elephants and exchange trunk greetings. Kids will love the adventure activities - whizzing through the air on a zip-line. You also have the time to explore the Kruger National Park at your own leisure.

Ideal for introducing nature to your kids, this 3-day family adventure safari to Kruger will keep curious, young minds occupied. Children older than twelve can even accompany your walking safari with an expert safari guide who can show-and-tell more exciting stuff than can be seen on TV, giving them plenty to talk about when they get back to school.

This family safari in Kruger National Park is ideal for a multigenerational family holiday. The advantage of this family safari is personal attention at all times, including a dedicated ranger for your game drives. You are essentially in charge how you want to spend your day. Children under 3 years are not allowed on game drives, but this 3-day Kruger family vacation package has a kids program to keep them occupied.
Anything is possible and we specialise in tailor-made African safaris to meet your needs and budget. Our destination specialists can answer any questions you may have and recommend the most suitable safari options for you and your family.