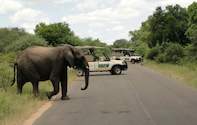 There are a few ways of experiencing the vast expanses and array of wildlife on an Kruger Park safari, such as walking and self-drive safaris, but for the real up close and personal experience, the open safari vehicle takes a lot of beating.
The excitement all starts when you climb onto the vehicle for your first game drive and the ranger explains the do's and don'ts of game viewing from the back of an open safari vehicle. These guidelines are in place to enhance your game viewing experience and to ensure your safety.
During the drive the ranger's knowledge and first-hand experience will ensure the ultimate Kruger Park wildlife safari and you will learn of all aspects of the wilderness. The ranger will also know how close to particular animals he can get.
The ranger is usually assisted by a tracker who sits up front on the vehicle and relays information to the guide from what he reads in the signs of the wilderness around him. The trackers are mostly people who have grown up in the area and know the bush and its intricacies intimately.

In most parks and wilderness areas in Africa the wildlife has become so acclimatised to safari vehicles that they barely even acknowledge the presence of the vehicles, allowing visitors to get front row seats to the greatest show on earth.
Breaking the Profile
The animals of Kruger Park may have acclimatised to open safari vehicles but the threat of humans is still very much alive and any indication of human presence is swiftly dealt with by running away or charging the offending parties.
This is one of the many reasons why the advice of the rangers is so important to follow as they have local knowledge of the behaviour of animals in their area, and what is okay in one area is not necessarily okay in another area. All this adds to the excitement of getting up close to an animal.
One of the main things the ranger will discuss in the opening briefing is the issue of standing up in the vehicle and how this will affect the animals. The animals are wild and as such they still have the inherent fear of humans - and standing up in the safari vehicle will break the profile of the vehicle that the animals have become used to. This will ensure that the animal runs away, or becomes aggressive.
There can surely be no more dramatic way to view the African wildlife than from a vantage point a mere few meters away, with an unhindered 360 degree view of the sky and wide horizons. There are many unbelievable experiences in Kruger Park but game viewing from an open safari vehicle is certainly one of the highlights.
Game Drive Options
Read more information on Game Drive Options in Kruger Park, including info on morning, afternoon and evening game drives.