Select Choices | Luxury Kruger Park Safari Experience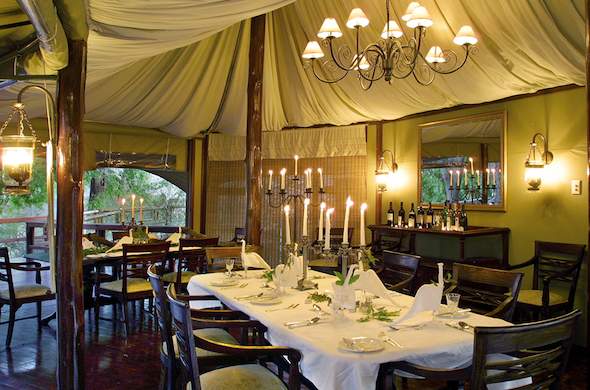 This Luxury Lodge Safari Collection offers Kruger Park vacation packages that promise remote peace and tranquility, a taste of history, a memorable luxury tent experience or shameless opulence in an exclusive safari lodge. With an unrivaled abundance of game viewing opportunities, these travel packages promise a Kruger experience you will never forget.
3 day - Luxury Self-drive Safari
Perched on a cliff in the middle of nowhere, with views over the river as far as you can see, this ultra-chic retreat is yours for the duration of this 3 day Kruger Park vacation package. Ideal for honeymooners because of its seclusion it is also perfect for birding aficionados due to its location in the northern reaches of the park.
3 day - Luxury Fly-in Safari
Lazing in your own jacuzzi on your private viewing deck is a good excuse to do nothing on this 3 day Big Five safari package in Kruger National Park, which is especially recommended for those seeking serenity in Utopia. Take in the stillness of the South African bush from your beautifully appointed suite or enjoy the wilderness on game activities.
3 day - Premier Southern Kruger Safari
A Big Five safari experience with 5 star luxury accommodation thrown in for good measure makes this 3 day Kruger Park vacation package a definite 'must do' if you want to really experience the southern section of Kruger Park in style. Participate in an interpretive bush walk with your expert guide who will show you how to 'read the bush'.
3 day - Premier Kruger Safari
Reminiscent of Ernest Hemingway's early days in Africa, this luxury tented safari experience is a 3 day Kruger Park vacation package to write home about. Enjoy the enchanting romance, style and great river views from your private deck. Here you will be tempted to take time out after an exciting Big Five safari adventure to just laze and relax.
3 day - Deluxe Fly-in Safari
Accommodation is in one of the earliest safari lodges in Kruger Park. On this 3 day package, not only will you encounter the Big Five, but almost feel what life was like in the pioneering days of the gold rush, to be on the old wagon route between the mines and Delagoa Bay on the Indian Ocean. Read the story about Jock of the Bushveld after an exciting safari.
3 day - Premier Tented Safari
Spoil yourself on this 3 day luxury tented camp safari experience in a private concession in Kruger National Park. Accommodation is in elegant en-suite safari tents. Your safari will include morning and evening game drives, during which you will enjoy excellent wildlife sightings.
See Kruger your way: These safaris can be customised to your needs.