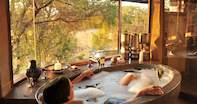 Setting out on life's greatest journey together is an exciting moment, and there is no better way to start out than in the African wilderness. These selected Kruger Park honeymoon packages each offer something different. You can choose between sheer opulence, closeness to nature or tranquil seclusion. To add to the occasion you can indulge in spa treatments, champagne baths or fireside romance.
For honeymooners who lead an active life, enjoy the outdoors and have a genuine inquisitiveness about nature, here is a 3-day romantic Kruger Park package that has it all. This romantic Kruger Honeymoon Safari is packed with as much (or as little) as your heart desires – think game drives, sundowner drinks in the African bush followed by dinner around a roaring fire and magnificent wildlife sightings with golden-hued sunsets.

If you yearn for a romantic secluded break, with a touch of the wild and exceptional scenery - the 3-day romantic Spa and Kruger Safari Getaway is simply superb. Discover shared experiences and reignite the spark between you and your loved one. Treat yourself to spa treatments down by the river and gourmet candlelit dinners make your romantic retreat really memorable. This luxury romantic breakaway to Kruger includes a traditional game drive into the Kruger National Park and an elephant interaction at a sanctuary.

Looking to get away from it all and re-connect with your loved one? Take a moment and escape the crowds and relax in the African bush. Take a moment and spend 4 days on a relaxing Kruger Safari. Pamper yourself at a spectacular bush spa. Enjoy afternoon siestas and see wildlife gather at the waterhole while you lounge poolside. Experience guided game drives followed by refreshing sundowners and dinner in a choice of venues accompanied by fine wines from the wine cellar. Fall asleep to the tranquil sounds of the bush.

Spend 4 days on a flight of romance in the world-renowned Kruger Park. Enjoy exquisite cuisine, unforgettable safari experiences and a wedding in the heart of the African wilderness. On this 4-day African Destination Wedding Safari you can expect a stylish and romantic ceremony in a dry African riverbed, luxurious accommodation and incredible memories, made under the African sky. Enjoy romantic touches throughout which include private romantic dinners under the African sky. Embark on thrilling game drives into the untamed African bush and celebrate your union in timeless African style.
See Kruger your way: These safaris can be customised to your needs.