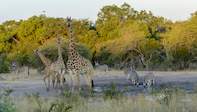 © Roger de la Harpe
Talamati Bushveld Camp is situated in a large, open valley on the banks of the N'waswitsontso River in Kruger National Park.
Talamati Camp is situated in a large open valley, affording guests superb game viewing opportunities. The luxuriant grassveld in the area attracts large herds of grazers, and the predators never lurk too far behind in Kruger National Park. Flora found in this region include: Green Thorn, mixed Bushwillow, mixed Acacias, Leadwood, Marula and Jackalberry.
Talamati Camp's closest gate is at Orpen, which is 30km (18.6 miles) to the north. Satara is the closest rest camp, and it is 52km (32 miles) away. Eastgate Airport is situated 68km (42 miles) from Orpen gate in Kruger National Park. It is served by SA Express, with daily flights from Johannesburg and Cape Town.
Transportation routes and times from JHB/PTA
Orpen Gate Head toward Nelspruit on the N4, take the R540 Belfast turn off. At Lydenburg turn left onto the R36 heading north. About 30km before Hoedspruit turn right onto the R531 and head to the gate. Allow between 4 to 5 hours for the trip to the gate.Talamati Bush Camp, in Kruger National Park is 30km away from the gate. Allow about one and a half hours for the drive to the camp; however if you want to enjoy the game viewing possibilities give yourself more time!
Climate
Kruger National Park is in a summer rainfall area. Such precipitation is usually convectional and can result in heavy downpours. The summer months (October to April) are hot and often balmy. Winters are warm and mild, although visitors going on night-drives will require warm clothing.
Vegetation
Talamati Camp is a good game viewing region in a sloping valley and hill area, that is dominated by knob thorn and bushwillow trees.
GPS Co-Ordinates
-24.557370 S 31.555130 E