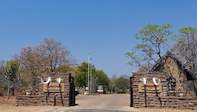 The panoramic view from Olifants Rest Camp provides a perfect vantage point from which to spot wildlife.
Accommodation in bungalows, and 2 luxury guesthouses
Picnic site and Kruger Park shopping facility
Abundance and diversity of wildlife and birds
Olifants Conference facilities
Guests to Olifants Rest Camp will be exposed to an unforgettable window of Africa at their Kruger Park accommodation and lodging. The Olifants Camp is situated on top of a hill towering several hundred feet over the river of the same name. Sightseeing views from the lookout platforms allow a person to observe the river below. The camp is warm and welcoming and will win many staunch supporters for Kruger Park accommodation.
Olifants Rest Camp Accommodation
The 2, 3 and 4 single-roomed thatched bungalows fitted with en-suite facilities and kitchenettes afford panoramic views across the surrounding bushveld. One of the 2-bedded huts are specially fitted with aids for those with mobility difficulties, so they may also enjoy authentic Kruger Park lodging.
Because Olifants Camp is situated in a transitional zone, 2 distinct types of vegetation can be found, offering a wide range of game. In the north, the low lying Mopane trees provide cover for Zebra, Impala, Kudu and Elephant.
To the south, rolling plains are dotted with Buffalo, Giraffe and Kudu. While along the Olifants River, wildlife such as Lion, Crocodiles and Hippopotamus can be viewed on gameviewing and sightseeing excursions in Kruger Park, as well as an abundance of birdlife such as Owls, Storks and Eagles.
Game viewing is possible from Olifants Rest Camp where a shaded lookout platform is positioned. Here at your Kruger Park accommodation you are sure to spot Hippopotamus, Crocodiles in the Olifants River as well as the occasional Lion kill.
Around the Olifants River, guided game walks are the perfect way to learn more about the bush from close up. Morning or evening bush braais (barbeques) can be enjoyed as you soak up the warmth of a campfire and Kruger Park nightlife. Olifants Camp, like the other Kruger Park accommodation facilities, is suitable for year-round visits, but the summer months are often hot and balmy, (40 C / 104 F), interrupted occasionally by sporadic thunder showers.
'Olifants' is the Afrikaans word for Elephants, which are commonly found in the area. Kruger National Park attractions include seeing the tusks of 6 of the famous Magnificent Seven Elephants, which used to be on display at the reception but can now be found at Letaba. A short distance from camp you can find the signature of GR von Weilligh, one of the original surveyors in the area who left his mark on a nearby Baobab tree back in 1891.
Olifants Rest Camp Facilities
Information at Reception
Public Telephone
Post Box
Restaurant
Conference Facilities
Cafeteria
Shop
Laundromat
Petrol / Gas Station
Communal Kitchens
Cutlery and Plates Hampers (from Reception)
Basic First Aid Assistance
Day Visitors Picnic Area in camp with gas braais (barbeques) for rent
DSTV (limited channels) only available in Guest Houses and in TV hall
Emergency Road Service (at Letaba 32km north)
Cellphone reception