A green and thriving oasis, Letaba Rest Camp offers comfortable accommodation in Kruger Park with excellent Elephant and bird viewing opportunities.
Being close to 3 major dams, provides for excellent wildlife viewing
View game on a 3 hour night drive
Banking facilities, first aid and a fuel station are available
The Goldfields Environmental Education Centre is located within the camp
Guest houses, cottages, bungalows, huts or furnished safari tents
The idyllic Letaba Rest Camp is situated on a sweeping bend of the Letaba River, midway between the southern and northern boundaries of the Kruger National Park, South Africa. At Letaba Camp you can choose between a guest house, cottage, bungalow, hut or a furnished safari tent, as well as camping and caravan sites for your lodging in Kruger Park.
The character of Letaba Camp depends heavily on the tall shady trees (Sycamore Fig, Natal Mahogany, Sausage Tree and Apple Leaf), expansive lawns and indigenous gardens where tame Bushbuck wander. Visit in winter and you will find the gardens a riot of colour, with several species of Aloe and the Impala lily in full bloom at your accommodation in Kruger Park. The Aloes attract a variety of birds, including the White Bellied and Marico Sunbird, Crested Barbet, Blackheaded Oriole and Black Eyed Bulbul.
Letaba Camp offers excellent bird watching opportunities all year round. Pearl-spotted, Barred and Scops owl can be spotted in camp, while the Giant Eagle Owl is regularly recorded along the river. Green Pigeon and Brown-Headed Parrot can be found high in the tree canopies.
Letaba means 'river of sand' and the sandy riverbed makes for excellent game viewing, particularly Elephant, which abound in the area. Letaba Camp is a green oasis in the surrounding mopane veld, and remains a firm favourite with holiday visitors for accommodation Kruger Park.
Historical Interest of Letaba Rest Camp
In prehistoric times, parts of the present-day Kruger National Park were inhabited by successive groups of people. One such example is that of picturesque Masorini Hill which is 39km (24 miles) from Letaba.
Human habitation at Masorini has been traced back several centuries to the late Stone Age, while more recently it has been home to the BaPhalaborwa tribe's people who inhabited it in the early 19th century. They were cattle and crop farmers, as well as iron smiths of note, who made a living by manufacturing iron artifacts and trading with Arab merchants on the east coast.
Archaeological excavations have revealed hut floors, packed stone walls and terraces, grinding stones, pot shards, glass beads, ash and even food remains. Most impressive, however, are the iron-melting furnaces, smithies and worked artifacts. The village offers an example of a specialized economy and well-developed technology that existed well before the arrival of the white man in South Africa.
The origin of a typical Portuguese cross, carved into an old leadwood tree along the S95 road just north of Letaba, remains shrouded in mystery. It may have been carved by the Portuguese explorer, Ferdinandes das Neves, during his expedition to the Soutpansberg in 1860-61.
Letaba Rest Camp Facilities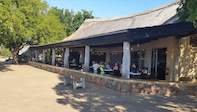 Information at Reception
Public Telephones
Post Box; ATM
Basic First Aid Assistance
Swimming Pool
Cutlery and Plates Hampers (from Reception)
Restaurant; Cafeteria; Curio shopping in Kruger Park
Emergency Road Service*
Petrol/Gas Station
Laundromat
Communal kitchens & ablutions
Limited DSTV only available in Guest Houses
Cellphone Reception
Conference Facilities
Day Visitors Picnic Area on the perimeter of the camp with own swimming pool