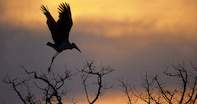 Bateleur Camp is the oldest as well as the smallest of the bush-veld camps and has two nearby water holes which provide excellent game viewing.
A small and exclusive bushcamp experience
View wildlife from the game viewing hide
All chalets are fully equipped and serviced daily
Conference facilities for 30 delegates
Morning and night wildlife game drives
It is not without coincidence that this Eagle gives its name to the Bateleur Camp. Just as the Kruger Park provides a safe haven for the Bateleur Eagle, so the bush atmosphere of Bateleur Camp will uplift your spirits and restore your soul, far from the frenetic pace of life in the city.
Bateleur Bushveld Camp Accommodation
Classed as 'Family Cottages', Bateleur Camp was built in the late 1980's and consists of 7 fully equipped chalets. Many of the bedrooms at this Kruger Park camp have en-suite bathrooms and each bedroom is either air-conditioned or has a ceiling fan. All accommodation units at Bateleur Camp are serviced daily and supplied with bedding, towels, and soap.
There are barbecue facilities at each cottage and at the recreation centre. Wood can be bought in this Kruger Park camp. Each accommodation unit also has its own electricity points. Open parking is available at Bateleur Camp.
Bateleur Camp offers many attractions such as a game-viewing hide that overlooks a waterhole just outside the camp. Night drives enable you to take part in the nightlife of Kruger Park's nocturnal creatures, in the company of experienced transportation guides and trackers.
Two dams, Silvervis and Rooibosrand are within close range of Bateleur Camp and are restricted to the residents of Bateleur. Silvervis boasts a large variety of birdlife, as well as other wildlife such as Hippopotamus, Crocodiles, Bushbuck and Nyala.
The birdlife includes African Spoonbill, Yellowbilled Stork, and African Fish Eagle, Whitefaced Duck and Knobbilled Duck as well as the Greenshank. Bateleur Camp is private, meaning only residents are allowed in this Kruger Park camp and on the access roads to Bateleur Camp. Each of these smaller camps is situated within easy reach of the larger rest camps so that guests can make use of the larger camps' amenities if needed.
Bateleur is one of the smallest bushveld camps in the park and only has a mini shop for the basic items such as firewood, ice, and Telkom phone cards, there are no foodstuffs such as meat available. Shingwedzi is about 40 km away and has a restaurant, cafeteria, and a fully stocked shop with fresh produce and meat.
Bateleur Camp Facilities
Information at Reception
Public Telephones
Boma Braai with DSTV, please supply own food and drinks
Conference Facilities for 30 persons in lecture configuration
Mini shop stocks basic items such as firewood, ice, and Telkom phone cards, there are no foodstuffs such as meat available