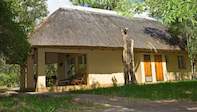 Talamati Camp has 15 fully equipped, self-catering family cottages, scattered amongst trees, on the banks of the N'waswitsontso River.
This accommodation in Kruger National Park is serviced daily. Towels, bedding, and soap are provided.
Talamati Camp comprises of 11 two-bedroom cottages for accommodation in Kruger National Park. Both bedrooms have ceiling fans. One of the bedrooms has 3 single beds, and the other has 2 single beds. One bedroom has an en-suite bathroom (bath, toilet, and washbasin).
The other bathroom has a separate toilet and shower at Talamati's accommodation in Kruger National Park. The shower also has a washbasin. The kitchen has a gas stove with oven, refrigerator, sink, cooking utensils, crockery, and cutlery. Refrigerators do not have freezing compartments, but there is a communal freezer in the camp.
Meals can be enjoyed on the open verandah at Talamati. One cottage features more luxurious fittings, with enhanced linen and decor and 2 separate bedrooms both en-suite, one with a double bed, the other with 2 singles.
There are also 4 one-bedroom cottages. The bedroom has two single beds and a ceiling fan. There are two bench-beds in the living room and a ceiling fan. The bathroom has a bath, toilet, washbasin, and inter-leading doors to the bedroom and living room.
Entrance gates and restcamp gates are closed at night. Guests and visitors must ensure that they arrive at the entrance gate in good time and before the gates have closed.
No permits will be issued for late arrivals.