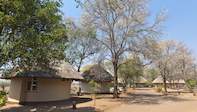 The ambience of Satara Rest Camp recalls the mood of yester-year Africa with red-roofed public buildings, thatched bungalows and neatly raked paths.
Best camp for viewing lion, leopard and cheetah
Accommodation in guesthouses, bungalows and camp/caravan sites
Satara Rest Camp has a restaurant and a grocery store
Picnic facilities are available for day visitors
Third largest camp and is located in the centre of Kruger Park
Satara Rest Camp is the Kruger National Park's third biggest rest camp, providing a range of Kruger National Park accommodation.
Satara Rest Camp Accommodation
There are 100 sites with power points available for camping and caravans. A range of bungalows with 2 or 3 bed units with kitchens or communal kitchen options. Wheelchair-friendly accommodation is available.
Guests can also stay in the guest cottages which include 5-bed or 6-bed units with well-equipped kitchens. Alternatively, stay in the Stanley, Wells or Frankel guest houses. Satara Rest Camp, Kruger National Park in South Africa also boasts a grocery store that is well stocked for the self-caterers. There is also a TV lounge at this camp.
The prime bungalows along the eastern perimeter allow visitors to glimpse the Hyenas that scavenge outside the fence at night. Satara Camp, located in the centre of the Kruger National Park in South Africa, stakes its reputation on being one of the best spots in the world for viewing Lion, leopard and cheetah, because of the fertile grazing land found in the area which attracts vast herds of antelope.
For this reason Satara Rest Camp is often referred to as the 'cat camp'. Large cats are frequently spotted in the Muzadzeni area, where a large and successful Lion pride operates, or along the 5100 route that runs east from Satara Camp, hugging the bank of the N'wanetsi stream.
This stretch is especially productive in winter when the veld is dry, and lion and Leopard lie waiting to ambush the thirsty Antelope that come in large herds to drink at the few remaining pools of water. Satara Rest Camp is slowly being modernized with the addition of private kitchens, air-conditioning, overhead fans and facilities for the disabled.
In the late 1800s, before the Kruger was proclaimed a national park, the burgers of the newly proclaimed Transvaal Republic carved up the region for human settlement. One of the surveyors sent to divide the region was an unnamed Indian who marked present-day Satara on his map with the Hindi word 'satra' meaning 17.
Satara Rest Camp Facilities
Information at Reception
Public Telephone
Post Box
Restaurant
Mini ATM facility available in the restaurant
Delicatessen
Communal ablutions
Swimming Pool with children's playground
Cafeteria
Shop
Laundromat
Filling Station
Communal Kitchens
Cutlery and Plates Hampers (from Reception)
Basic First Aid Assistance
TVs (limited DSTV) available in family bungalows only
DSTV (limited channels) only available in Guest Houses
Day Visitors Picnic Area with Boma on perimeter of camp
Eco Information Centre and Amphitheatre
Cellphone reception