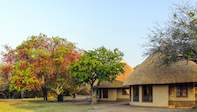 Skukuza Camp is the capital of Kruger National Park. It is the biggest camp and includes facilities such as a shop, ATM, internet cafe, restaurant, library, fuel station and more.
A magnificent 9 hole (18-tee), Par 72 golf course
Riverside walks, wilderness hikes and game drives
Accommodation and lodging ranges from luxury to standard
Wondering what is the best camp to stay in Kruger National Park? Many visitors think Skukuza Rest Camp is the best camp in Kruger Park. The activities, attractions and facilities are diverse, as are the animals and plants found both within Skukuza Rest Camp and the surrounding area. Skukuza Rest Camp is an excellent rest camp from which to pursue the Big Five and birds in the vicinity.
Lion are frequently spotted along this route. At night, look for the Fruit Bat that hangs under the eaves of the shop, and the Thick-tailed Bush Baby climbing the trees in search of gum.
Skukuza Accommodation
Safari Tents
Guest Houses
Sites for camping or caravans
Bungalows and Luxury Bungalows
Family Cottages and Guest Cottages
Skukuza Camp Overview
Skukuza Rest Camp in Kruger National Park is a popular rest camp situated in the heart of Big Five territory and is easily accessed by road and by air. Skukuza Rest Camp in Kruger National Park features a variety of accommodation options such as camp sites, furnished safari tents, luxury bungalows, cottages and 4 guesthouses.
The myriad of birds and wild game in the area is easily spotted by going on bush walks and game drives. Wildlife documentaries are shown in an outdoor amphitheater. There is a magnificent 9 hole (18-tee), Par 72 golf course available for golf enthusiasts on their Kruger Park safari holiday. Read more about Golfing in Kruger at Skukuza Golf Course
Disabled Visitor Facilities
The reception area is accessible with drop curves providing access from the parking area to the buildings, which include the reception office, a bank, a post office and public toilets (including a barrier free toilet) amongst others. The auto-bank is up a step and is thus inaccessible for wheelchair users. The camp's shop, restaurant and cafeteria are all designed to be all easily accessed in a wheelchair, as is movement along the camp's perimeter fence adjacent to and overlooking the Sabie River.
Skukuza Rest Camp has several attractions such as a museum hut, the Stevenson-Hamilton Memorial Library, an information centre and an auditorium. Only the library is inaccessible. Wheelchair users will need to be pulled up the stairs to access this facility. The camp has 8, 2-bed huts with barrier free facilities (6 with showers and 2 with baths). There is an accessible 6-bedded cottage with bath and shower facilities.
Restaurants
Skukuza Rest Camp has 2 restaurants - the Cattle Baron Skukuza and the Kruger Station. The Cattle Baron at Skukuza serves breakfast, lunch and supper and has a deck boasting lovely views of the Sabie River. The Kruger Station has a deli, bar, restaurant, ice-cream and coffee shop and a kids zone.
Airport
The airport is a rudimentary one. The airport staff assists passengers off the plane via airline wheelchairs and down a mobile ramp. No barrier free toilets existed at the time of writing although access to the toilets is easily managed.
Skukuza Rest Camp Facilities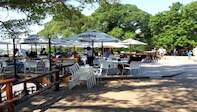 Information at Reception
Public Telephone
Post Box
Public Telephone
Bank
Car Hire
Car Wash
Restaurant
Delicatessen
Shop
AM Spa
Auditorium and Conference Facilities
Communal ablutions
Communal kitchens
2 swimming pools in camp (for overnight residents only)
Laundromat
Filling Station
Cutlery and Plates Hampers (from Reception)
Basic First Aid Assistance
TV and DSTV (limited channels) available in Luxury Units only
Day Visitors Picnic (located 4km outside the camp) with own swimming pool
Cellphone reception
Skukuza Indigenous Nursery (located approximately 5km outside camp)
Stevenson Hamilton Memorial
This is a get-out point with a path to a memorial plaque. The path passes over and between boulders and is not accessible to a person in a wheelchair.
Nkuhlu
Nkuhlu is a picnic site where a ramp has been specially constructed to allow wheelchair users the opportunity to descend from the parking lot down to the pathway adjacent the river's edge. There has been no adaptation of any of the other facilities and no barrier free toilets exist at the time of writing.
Kruger Tablets
Another get-out point where a memorial plaque has been embedded in rock. Reaching the plaque in a wheelchair requires assistance and such visitors are better off reading the plaque through binoculars.
A Brief History of Skukuza
The camp was originally known as Sabie Bridge or simply Reserve, the name was changed in 1936. Skukuza Rest Camp in Kruger National Park is named after the Tsonga name for James Stevenson-Hamilton, the first warden of the park. Literally translated it means 'he who sweeps clean', a reference to his removal of all the local people to make way for the establishment of the Park.
The Stevenson-Hamilton Memorial Museum houses many interesting artifacts - very well known is the knife ranger Harry Wolhuter used to single-handedly slay a Lion and save his own life. Skukuza is the Kruger National Park's largest rest camp and administrative headquarters. It is situated on the southern banks of the Sabie River and is home to some interesting birds and amazing plant life.