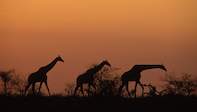 © Nigel Dennis
Sirheni Camp is located on the banks of the Mphongolo River and is surrounded by Mopane plains in Kruger Park, South Africa.
Sirheni Camp is the northernmost camp of the Kruger Park's 5 bush camps, forming an oasis in the surrounding Mopane plains. Its 15 cottages sprawl along the northern bank of the Mphongolo River, under a leafy canopy of huge Jackalberry, Leadwood, Tamboti, and Knob Thorn Trees in Kruger Park, South Africa.
Sirheni Camp forms part of a concept in bush lodges in the Kruger Park, South Africa. Smaller, more luxurious camps are built in the more remote areas of Kruger.
Sirheni Camp is private, which means that only residents are allowed in the camp and on the access roads to the camp. Each of these smaller camps are situated within easy reach of the larger rest camps so that guests can make use of the larger camps amenities and shops if needed.
Entrance gates and restcamp gates are closed at night.
Visitors must ensure that they arrive at the entrance gate in good time to reach the restcamp before closing time.
No permits will be issued for late arrivals
. There are regular domestic flights to and from Phalaborwa Kruger Park Gateway Airport, which is just 4 kilometres (2.4miles) from Phalaborwa Gate.
Travel routes and times from Johannesburg/Pretoria
Punda Maria Gate: Take the N1 to Polokwane (Pietersburg), at Makhado (Louis Trichard) link up with the R524 follow this route for ±140 kilometres (87 miles) and that will take you to the gate. Allow between 5 to 6 hours for the trip to the gate.
Sirheni Bush Camp is 54 kilometres (34 miles) away from the gate in Kruger Park, South Africa. Allow about 2 hours for the drive to the camp, however, if you want to enjoy the game viewing possibilities, give yourself more time in Kruger Park, South Africa.
Climate
Kruger Park, South Africa is in a summer rainfall area. Such precipitation is usually convectional and can result in heavy downpours. The summer months (October to April) are hot and often balmy. Winters are warm and mild, although visitors going on night-drives will require warm clothing.
Vegetation
Sirheni Camp is set in mopane woodland, giving the camp a shady luxury feel at Kruger Park in South Africa. As one moves east towards the main tar road, the vegetation becomes mopane shrubland and grassland which is good for attracting grazing species.
GPS Co-Ordinates
-22.949380 S 31.230930 E