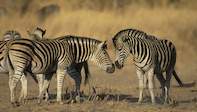 © Nigel Dennis
The area is excellent for a wildlife safari in Kruger Park. Guided activities that can be booked include morning and afternoon bush walks and morning, sunset and night game drives.
Sirheni Camp offers some breathtaking sunrise views as each cottage is situated close to the river. When the sun rises, its rays scatter across the water and slowly highlight the surrounding foliage and wildlife. This is one of the many attractions of Kruger National Park.
Game
The camp is renowned for the prevalence of Antelope species that are rare in the Kruger National Park, such as Roan, Sable, Tsessebe, Lichtenstein's Hartebeest and reedbuck.
A poster at reception calls for guests sightings of rare antelope to be recorded during their safari in Kruger Park. Eland are another species that are rare in Kruger National Park but regularly seen in the area, while Sharpe's Grysbok is a special species of the northern parts of the Kruger National Park.
Elephant and Buffalo are common, both grazing on the camp's fence-line at night, alongside Hippopotamus. Lion, Leopard and Spotted Hyena have been seen, while in the grasslands between Babalala and the northern link to the Mphongolo Loop, Cheetah, Wild Dog, African Wild Cat and several others may be seen on safari in Kruger Park.
Birding
On your safari in Kruger Park you will notice that the camp is busy with bird life. Thrushes, robin-chats, parrots, orioles and weavers are particularly prominent. Pygmy goose, painted snipe, rufous bellied heron, dwarf bittern and whiskered tern are some of the water birds that have been seen in the area.
Arnot's chat should be looked for in the area, particularly along the Mphongolo spruit. The weir across the Shisha River some 4 kilometres (2.4 miles) from camp will usually produce hamerkop, giant and pied kingfisher and some herons and storks.
The camp however is also a great launching point for the birding wonderment of Pafuri (70 km to the north) on your safari or suggested itineraries in Kruger Park.
Please Note If you must walk around at night please do not do so without a torch.
5 Things to Seek
Reedbuck
Elephant
Resident Leopard
Sable Antelope
Roan Antelope