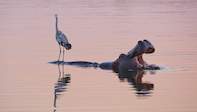 © Shem Compion
Shimuwini Camp is situated in the north between sparse, isolated hills in the west and the Lebombo mountains in the east. Shimuwini is set in a remote area along the Letaba River with superb river views.
Shimuwini Camp is in the northern region, the area ranging southward from the Tropic of Capricorn to the Olifants River. The sparse, isolated hills in the west are rich in pre-historic artefacts, while the Lebombo Mountains in the east form the natural boundary between Kruger Park, South Africa and Mozambique.
Riverine communities are formed alongside rivers and cross through many other landscapes. At Shimuwini Camp in Kruger Park, South Africa, you can be certain you will see many different animals coming down to drink along the river within view of Shimuwini Camp.
Entrance gates and restcamp gates are closed at night. Visitors must ensure that they arrive at the entrance gate in good time to reach the restcamp in Kruger Park, South Africa before closing time. The nearest shops are in the Letaba and Mopani rest camps.
Please Note
No permits will be issued for late arrivals.
Travel routes and times from Johannesburg/Pretoria
Phalaborwa Gate Take the N1 toll-road to Polokwane (Pietersburg). Forty kilometres (24 miles) before Polokwane turn right onto the R71 and head for Tzaneen. After Tzaneen, head towards Phalaborwa and the gate in Kruger Park, South Africa. Allow between 6 to 7 hours for the trip to the gate.
Shimwini Bush Camp is 50 kilometres (31 miles) away from the gate. Allow about 2 hours for the drive to the bush camp, however, if you want to enjoy the game viewing possibilities, give yourself more time.
Climate
Kruger Park in South Africa is in a summer rainfall area. Such precipitation is usually convectional and can result in heavy downpours. The summer months (October to April) are hot and often balmy. Winters are warm and mild, although visitors going on night-drives will require warm clothing
Vegetation
The indigenous, ever present Mopane tree is a stunted scrub in the east but increases in size as it mixes more with taller trees such as Leadwood, Apple Leaf, Jackalberry and Nyala trees toward the west.
Vegetation found in the Kruger Park in South Africa include: Apple Leaf, Mixed Bushwillow, Silver Cluster Leaf, Leadwood, Mopane, Baobab Trees, Round Leafed teak, Buffalothorn, Sycamore Fig, Magic Guarri, Marula, Jackalberry and Mixed Acacias, Wilddate Palm, Weeping Boer Bean and Reeds.
GPS Co-Ordinates
-23.711170 S 31.271690 E