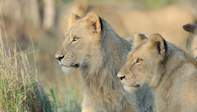 © Shem Compion
Shimuwini Camp's riverside game viewing and rich prehistoric past, make this camp unique for a Kruger Park safari.
Morning Bush Walk, Exclusive Night Drive
Track Rhino, Elephant and Lion on foot
Guided tours can be arranged
Open parking is available
Morning game drives go out at around 4.30am in summer and 5.30am in winter. You should confirm this with your nearest reception the previous night when you check into their accommadation. The drive's duration is 3-4 hours on a Kruger Park safari or suggested itinerary.
Night drives enable you to take part in the nocturnal activities and nightlife of Kruger's secretive creatures in the company of experienced transportation guides and trackers on your Kruger Park safari.
Guided bush walks, in the company of trained field guides with backup rifles, take groups of up to 8 people out into the bush for a few hours. Track Rhino, Elephant and Lion on foot and learn and observe fascinating facts about the African bush.
Please Note: If you must walk around at night, please do not do so without a torch.
Game
Some of the animals to be seen in this area on a Kruger Park safari are Lion, Cheetah, Leopard, Hyena, Giraffe, Kudu, Impala, Wildebeest, Zebra, Duiker, Hippopotamus, Crocodiles, Sable, Roan, Eland, Tsessebe, Waterbuck, Baboon and Buffalo.
Birding
In and around the Letaba River storks, egrets, kingfishers and African Fish Eagles are ever present, while Redwinged Pratincole, African Spoonbill, Blackwinged tern are some of the more uncommon species to watch for on a Kruger Park safari. Mosque and Wiretailed Swallow Breed and can be spotten in the huge Baobab Trees.
5 Things to Seek
Caracal
Eland
Baobab Trees
Baboon
Waterbuck
These activities can only be booked in conjunction with confirmed accommodation bookings.