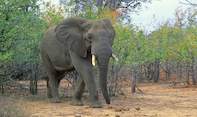 © Nigel Dennis
Being close to the Timbavati River, Roodewal Bush Lodge offers exceptional sightseeing and game viewing opportunities.
Situated on the Timbavati gravel road, Roodewal Bush Lodge is close to one of the most beautiful seasonal rivers in the park, the Timbavati River, which offers outstanding sigtseeing and game viewing of Kruger National Park, South Africa
Roodewal Bush Lodge is situated approximately 40km (24.8 miles) from the Olifants Rest camp and approximately 50km (31 miles) from Satara Rest camp. Eastgate Airport is situated 68km (42.2 miles) from Orpen Gate and is served by SA Express with regular flights from Johannesburg and Cape Town.
Flora attractions found in the Kruger National Park, South Africa region include: Apple-leaf, Tamboti, Baobab, Leadwood, Shrub Mopane, Mixed Bushwillow, Silver Cluster-leaf, Mopane, Mixed Acacias, Fever tree, Sycamore Fig, Thorny Cluster-leaf, Knob Thorn and White Syringa.
GPS Co-Ordinates
-24.1440000 S
31.6304300 E