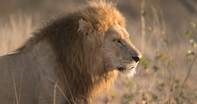 © Shem Compion
Bateleur Camp offers many features such as a game-viewing hide that overlooks a waterhole just outside the camp.
Exclusive Dawn Game Drive, Exclusive Sunset Game Drive
There are barbecue facilities and a recreation centre
Spot a hippo or maybe a lion
Birdwatching at Rooibosrand Dam
Night drives enable you to take part in the nocturnal activities of Kruger's secretive creatures in the company of experienced guides and trackers on Kruger Park safaris. In the company of trained field guides with backup rifles, guests can enjoy guided bush walks on their Kruger Park safari. The bush walk takes groups of up to 8 people out into the bush for a few hours.
Track Rhino, Elephant and Lion on foot and learn and observe fascinating facts about the African bush. The 'Big Five' are spotted here frequently, along with fantastic birdlife.
Please Note
If you must walk around at night, please do not do so without a torch.
Game
Silwervis Dam offers sighting of Hippo, Crocodile, Bushbuck, Nyala. If you are lucky you will perhaps be rewarded by a glimpse of the spotted prince of cats, a Leopard.
The nearby Nshawu pans are an excellent area to see game as there are some open plains that host species such as Blue Wildebeest, Burchell's Zebra, Buffalo and the Rarer Tsessebe. Black-backed jackal and caracal are some of the smaller more unusual species to look out for on Kruger Park safaris and suggested itineraries.
The 'Big 5' are spotted here frequently along with fantastic birdlife. A floodlight has been fitted for nocturnal viewing ranging from Civet, Hyena and matbe even Leopard and Lion.
Birding
Two dams, Silvervis and Rooibosrand are within close range of Bateleur Camp and are restricted to the residents of the camp. Silvervis boasts a large variety of birdlife and as well as wildlife such as Hippopotamus, Crocodiles, Bushbuck and Nyala.
The nearby Rooibosrand Dam is worth visiting for all the general waterbirds, including African Spoonbill, Yellowbilled Stork and African Fish Eagle, Whitefaced Duck and Knobbilled Duck as well as the Greenshank and of course the camp's namesake; the Bateleur Eagle.
The Bateleur Eagle is the most famous of the Snake Eagles. Bateleur is French for 'tightrope-walker'. This name was probably chosen because of its distinctive aerial acrobatics.
5 Things to Seek
Bateleur Eagle
Leopard
Hippo
Impala
Blue Wildebeest
These activities can only be booked in conjunction with confirmed accommodation bookings.