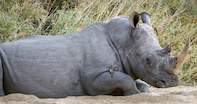 © Roger de la Harpe
Rhino Conservation in Kruger National Park is an extremely important part of protecting one of the most endangered species in the world. The rhino, part of the famous Big 5, has faced increasing pressure in terms of illegal poaching due to the horn trafficking market, habitat loss and dwindling population numbers.
Rhinos might be unpredictable and temperamental, but they are beautiful creatures part of the magic that the African bushveld holds. It is thus of vital importance to keep them safe and healthy, which is done through conservation efforts such as data capturing of populations and treating injured rhinos that have faced the threat of poaching.

The Kruger Park and its conservation partners have been instrumental in ensuring that malicious human interference with rhinos is curbed, and various projects such as 'Save the Rhino' allow the public to help efforts by adding monetary resources to the cause.