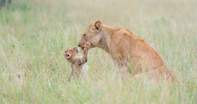 Lion Conservation in Kruger National Park is one of the park's many efforts to protect the fierce lion of Africa - the cunning hunter, the family-orientated pack, the adorable cub, and the king of the bushveld.

Studying lions in their natural habitat, keeping a record of populations and treating injuries caused by human interference are some aspects of conservation that takes place in the Kruger, done by conservation specialists and volunteers who are passionate about preserving the precious lives of unique and beautiful wildlife.
According to the International Union for Conservation of Nature, statistics from 2015 showed a 43% decrease in the lion population of Africa over the course of 21 years. Fewer than 20 000 lions remain in their natural habitat of the African bushveld, so conservation is key within the Kruger National Park. There are various organizations that donate their time and monetary resources to SANParks to continue their work with the greatest and largest predator of the park - the elegant, but often misunderstood, lion.