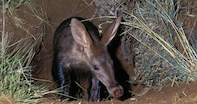 You may be familiar with the famous Big Five, beautiful herbivores and cunning carnivores, not many know of Other Mammals in Kruger National Park.
There are various smaller animals and unusually rare sightings that await safari-goers - your trained game ranger will happily point out the fascinating small creatures of the park on a game drive or safari walk. Rare sightings include the elusive aardvark, and pangolin, which will add interesting moments to your safari experience.

Guests will be pleasantly surprised to find that the park offers amazing opportunities to see animals that were not on their checklist, but are gorgeous to view in their natural habitat.