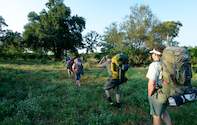 © Shem Compion
Join Nick Green as he regales tales of a memorable Kruger Park walking safari.
There's a knock on the door. It's a quarter to six, pitch black outside, and very cold. We dress quickly, wash at the basin outside our hut, and go for tea and rusks. We take a look at the water hole just outside the camp fence. There's nothing there, but in the torchlight we pick out two hyena loping along and a leopard coming down to drink.
Not a bad start to the day - almost as good as the previous night's sightings of four elephants and two rhino coming to drink. We wrap up in our cold weather gear for a 45-minute drive to the start of this morning's four-hour walk. It's freezing as we drive, but the sun is rising behind us, and soon it will be time to shed the jackets, scarves and beanies.
We are the only people in this 20 square kilometre section of the Kruger Park near Berg-en-dal Rest Camp. The scenery is spectacular – mountainous terrain all around us, with huge rock formations and low bush (it's winter) ideal for spotting animals.
We were concerned at the amount of burning we had seen on our way to the camp. Marius Renke, our ranger, tells us that none of it has been done by the parks people.
Some of the fire has encroached from outside the park, while much of it is caused by illegal immigrants coming through the park and lighting fires to scare off dangerous animals when they meet them.
Just outside the camp we see some kudu on their way from the waterhole, and some impala making their way back from a drink. A bit further on are two young male elephants on the side of the road: they look at us, make a false charge, then walk away embarrassed that we might have thought they really meant it! Bento Manhique, the Shangaan tracker, picks out a distant shape peering at us from the top of a mountain. It's the leopard we saw earlier at the waterhole.
Let the Game Viewing Begin!
We see very little for the next few kilometres, and then one of our party shouts "Lion!" There are two wonderful young male specimens lying beside the road. It's just as well that we're still in the vehicle and not walking. Soon afterwards, Marius stops the vehicle, and we climb stiffly out, stretching, stripping off our jackets, ready for the walk. An elephant trumpets. "A breeding herd," explains Marius. "They're very protective of their young. We'll give them a wide berth."
Off we set in single file - Marius, and then Bento followed by the eight of us. No talking. We scan the bush around us, and watch out for hand signals from Marius and Bento, which will tell us if something is nearby. We had a detailed safety briefing yesterday before our first walk. They have both spent a lifetime in the bush, and we feel completely safe in their hands.
Marius puts his hand up. We gather round. He shows us tracks in the sand from last night - a hyena, a civet, some zebra and an elephant. Off we go again. A few minutes later we stop again. This time to look at a jackalberry tree. Marius gives us a full description about it. He and Bento discuss which way to go from here. Bento suggests a route southeast towards a high mountain, which has bushman paintings nearby.
Marius hasn't been there before. The camp's territory is so vast that every day the trail covers a new area, in which no one has been for weeks. It's good for tracking - no vehicle tracks or human footprints. We set off again. Moments later, Marius puts his hand up. He and Bento point to the right. A huge male elephant is happily eating just 100 metres upwind of us. We silently move off taking the opposite route.
Marius tells us that elephants can follow humans; by blowing on the ground with their trunks, they pick up your scent, and then they can follow you. We quicken our step, and continue our walk with frequent stops to discuss what we find and hear along the way. It's getting warmer now. We're thirsty after being out for two hours.
It's time for the breakfast stop. Ahead is a very imposing mountain, topped by craggy rocks - an ideal hiding place for a leopard? Marius and Bento stop and scan the heights. All clear. We clamber up to a high vantage point overlooking the bush below. We can see for miles in all directions.
From our backpacks we unload apples, cheese, nuts, raisins, juice and water. All the while we scan the bush below with our binoculars. We can see the breeding herd of elephants far away on a patch of burnt bush. There's a rhino just below us. We saw that just before we reached the breakfast spot. Bento walks off to the far end of the rock to look out on the right-hand side of the mountain.
He spies more rhino – a mother and baby. A bit later he finds a sable sheltering under a thorn tree. He's got the most incredible eyesight. Without him, we'd miss so much. It's time to climb back down, and see the bushman's paintings.
There are many of them in this area. Because so few people get to see them, they are in good condition unlike so many others elsewhere. Back in single file, we walk on hearing many different birdcalls.
When Marius next stops, he identifies two of them as the bearded woodpecker and the purple-crested lourie. There weren't too many birds about yesterday when it was overcast. We've been much luckier today with the sunny conditions.
We continue in silence with more stops on the way to inspect different trees, to be tested on different animal tracks, and to identify a gorgeous bush shrike, a red-crested korhaan and many other birds. We see a striped mongoose scuttling away into the bush.
There had been a debate about what the plural of mongoose is when we saw 37 of them earlier. None of us knew. "One mongoose and 36 others" was the best suggestion. We are beginning to get tired. It seems we're a long way from where we started. Just then straight ahead we see our vehicle. What amazing bushcraft! We bump happily back to camp, chattering about everything we have seen.
One of us says: "I wish we could have seen wild dog." Moments later we see three wild dog in the middle of the road. After a while they move off into the bush in hunting mode. We drive on, and see some impala. Suddenly they start to run, chased by the wild dog along the side of the road. We race along beside them at top speed until they all disappear into the bush.
Back at Camp
Back at the camp there is time for a shower before brunch. The shower and loo are a short 30-metre stroll from out simple rondavel - no problem during the day, but a bit scary at night. Although the camp is fenced, elephant and leopard can wander through! We are called to brunch. Elsan Ntibane, the cook, has excelled himself again. Scrambled egg, sausage, bacon, cheesy potato and pot bread, with an amazing selection of jams. Washed down with beer, tea or coffee according to taste.
Then there is time for a siesta, to read, to have a quiet chat, or to sit at the waterhole. Tea at 3pm. Off again on foot from the camp straight afterwards. Another great walk in the park. It's without question the best way of experiencing the bush.
By Nick Green