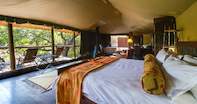 Tented camps in Kruger National Park range from basic comfort to stylish luxury. For those who would enjoy the tented safari experience of Kruger Park, these short self-drive packages offer a fully guided safari, as the best way to have a fun holiday and a great outdoor adventure.

This 3 Day Adventurer Getaway Classic Tented Kruger Park Safari Package offers an authentic Kruger Park safari at an affordable price. Stay in comfortable permanent canvas safari tents inside the Kruger National Park and enjoy guided game drives.

This 4 Day Explore Kruger Classic Tented Kruger Park Safari Package you will stay in a comfortable, comfortable safari tent with an en-suite bathroom and enjoy an authentic safari experience. Days are spent searching the vast wilderness for Kruger National Park wildlife.

An exclusive wilderness adventure awaits on this 3 Day Nature Discovery Classic Tented Safari Package. You will be accommodated in a Kruger Park lodge with tents that have en-suite bathrooms equipped with ball and claw bathtubs as well as an outside shower.

On this 3 Day Luxury Tented Safari in Kruger National Park you can enjoy authentic colonial-style luxury safari tented accommodation. Each luxury tented suite also has a private deck overlooking a seasonal river. Enjoy an unrivaled Big Five safari and superb service.