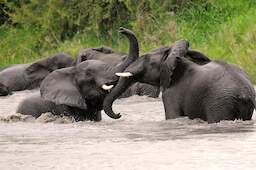 The Kruger National Park is the primary destination in South Africa for many international tourists. Each year more than half a million visitors are registered.
The world distinguished Kruger National Park offers a wildlife experience that ranks with the best in Africa. Established in 1898 to protect the wildlife of the South African Lowveld, this national park of
nearly 2 million hectares
is unrivalled in the diversity of its life forms and a world leader in advanced environmental management techniques and policies.

Truly the flagship of the South African national parks, Kruger is home to an
impressive number of species
: 336 trees, 49 fish, 34 amphibians, 114 reptiles, 507 birds and 147 mammals. Man's interaction with the Lowveld environment over many centuries - from bushman rock paintings to majestic
archaeological sites like Masorini
and Thulamela - is very evident in the Kruger National Park. These treasures represent the cultures, persons and events that played a role in the history of the Kruger National Park and are conserved along with the park's natural assets.

Visit the Timbavati Nature Reserve, which shares a common unfenced border with the Kruger National Park. This allows the animals free range and ensures guests to the area the opportunity to view the
greatest diversity of wildlife
that South Africa has to offer.
Accommodation:

The
Kruger National Park
offers a wide variety of accommodation, not only in size, facilities and visual appearance, but also in price range. Read more about our recommended selection of
Kruger Park Accommodation
Your Siyabona Destination Specialist will be happy to assist in creating a personalized Safari Package.
Activities:

A large
selection of wildlife Safari Tours
are available in Kruger Game Reserve. These
guided safari tours
normally depart from Johannesburg and include a trip through the Mpumalanga panoramic route to Kruger Park. All meals are included and accommodation varies from staying in chalets to camping in large dome-tents in the Southern or Central regions of the park. Airport or
accommodation pickups and drop offs
are also arranged.

Experienced
rangers with an extensive knowledge
of the area, the wildlife, birds and indigenous vegetation guide all walking safaris hiking trails. Accommodation in the game reserve is in a tented camp on a riverbed, in two-bedded safari-tents, with communal toilet and shower facilities. Camp staff cooks and clean while your guide leads you into close encounters with the African wild. To maximise your wildlife sightings, one or 2 game drives are also included in these game hikes.

If you are looking for exclusive comfort right out in the open savannah, open air dining on traditional cuisine under an African sky, superior personalised service and adventure safari - then
visit Sabi Sands Private Game Reserve
, Timbavati Private Game Reserve, Klaserie Private Game Reserve or Thornybush Private Game Reserve for a preview of private luxury lodge accommodation.

There are
no restricting fences
between the Private Game Reserves and the Kruger National Park, so exciting wildlife encounters in the open veld are the order of the day. With convertible safaris to create your dream safari holiday or vacation, you can be assured of the sheer enjoyment of unspoilt nature. The
vitalizing air and open vistas
will leave you relaxed and energized for when you return to civilization.