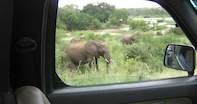 In this section there is help and guidance for self-drive visitors on safari in Kruger Park. You will find information on how to go about it and what other game viewing activities are available.
What is a Self-Drive Safari?

A Self-Drive Safari gives you the freedom to drive yourself around the Kruger Park in your own vehicle. It is the most affordable way to see the Park and gives you flexibility and the thrill of spotting wildlife at your leisure.
Once the Entrance and Camp Gates are open you can Self-Drive throughout the Park on designated Routes and Roads. All the roads are either tarred or gravel and you may never drive your vehicle off-road to get closer to the animals.
What are the benefits of a Self-Drive Safari?

You are not bound to a schedule and can discover the Kruger Park at your own leisure. Stay at accommodation surrounding the park and then drive through the park as a day visitor, taking in the scenery and wildlife at your leisure. It is also the most Family Friendly option as your children, irrespective of age, can drive around with you and be on the lookout for the BIG FIVE.
Can I leave the Kruger National Park during the day?

Yes, you can enter and leave the Kruger Park anytime during day and as often as you want. You are however restricted to the Entrance & Camp Gate Opening and Closing Times.
You will need to produce your accommodation voucher and entry and exit permit at the Gate.
The Gate official will stamp your permits - these stamped permits need to be produced again upon your return. You will not be charged any additional entry fees.
While driving in Kruger, am I allowed to get out of my car?

No. As soon as you leave your vehicle you step into the territory of wild animals. When you are inside your vehicle the wild animals will not fear you - letting you observe them in safety. As soon as you step outside your vehicle you become a threat to them.
Even when you can't see any animals around, you should never get out of your vehicle, as long grass can conceal dangerous snakes etc. Only ever get out at designated areas or in the camp.
What can I do if my car breaks down?

Call the Kruger Emergency call centre on 013-7354325. If you do not have a cell phone, wait for another car.
Do not get out of your vehicle and do not walk to the camp!
Game Viewing
Is there only self-drive game viewing in the Kruger Park or are there any guided activities?

Apart from game viewing in your own car or a rental car, you can also book self-drive Guided Game Drives in Kruger Park.
This is an excellent opportunity to relax and let your competent and expert guide seek out the best wildlife.
How and where can we find wildlife when driving around?

Do not speed. Drive slowly and keep your eyes and ears wide open. Watch out for movements in the bush, and be very patient. Waterholes and Hides are great for viewing wildlife, as the animals will always come looking for water and many birds as well. Talk to other visitors and watch the sightings board in the various camps.
For more tips and advice read the Self-Drive Safari Guide
Are there specific areas where the Game Viewing is better?
The Southern Region is the best for sightings, but can be quite busy - viewing wildlife could be difficult with lots of cars at a single site.
The Central Region is great for cats while the plains area attracts antelope species (which in turn attracts predators).
The Northern Region is excellent for birding but poorer for other sightings.
Route Maps
Where can I get a Map of the Kruger Park?
Download and Print this Kruger Park Map.