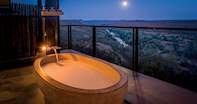 View from your bath at Outpost Safari Lodge
In this guide you will find helpful information with regard to staying in a Private Safari Lodge in the Kruger Park on a Guided Safari.
Basics
Are the Private Game Lodges fenced? Is it safe?

Yes, it is safe even though most of the Private Game Lodges are unfenced and set in the natural bushveld. Some lodges have two strand electrified fences to keep larger animals out. Animals may move through the area of the lodge but as there is constant movement and people around the lodge they move off fairly quickly and pose no danger.
On arrival at your lodge, during check-in, there will be a briefing from the staff about these safety procedures - as they work and live in these areas and know how to keep you save.
It is safe to walk between the main lodge and your rooms during the day but at night a ranger will escort you between the lodge and your room.
If you feel uneasy at any time let them know and an escort will be provided when needed.
Is there a dress code? What clothes should I pack?

No. Everything is 'safari' casual. Try and wear neutral colours; they keep you cool during the day and pose no threat to the wild animals.
We recommend a warm jacket or windbreaker and long trousers for your afternoon and evening safari.
Don't forget your swimming costume for the warm afternoons by the pool and comfortable walking shoes.
Are laundry services available?

Yes, there is a next day service. Each room has a laundry bag and list which you need to complete.
The housekeeper will collect it from the room during the morning safari and return it by the latest the next morning. There may be a minimal charge for this.
What currency can I use in Kruger Park?

South African Rands (ZAR) are accepted as well as all major credit cards.
Some private lodges can take payment in foreign currency but it is advisable to have South African Rands.
Do all the lodges have credit card facilities?

Yes they do, however some do not take American Express or Diners Cards.
Accommodation
Are linens and towels provided by the Private Game Lodge?

Yes, crisp quality linen is provided, fluffy towels for the bathroom and pool.
Are there mosquito nets over the beds?

Yes, most Private Game Lodges have mosquito nets, each room has mosquito repellent for extra peace of mind; windows are also usually fitted with netting.
Do I need to pack toiletries?

Each room has amenities, they do vary slightly from lodge to lodge but the usual shampoo, sunscreen, insect repellent , body cream are standard, bath soaps are provided.
What typical room amenities are available at Private Game Lodges?
Each room comes with a fan, air-conditioning, hairdryers, international adapters, telephones, safes, information packs, mini bars.
Will I have an en-suite Bathroom?

Yes, all Private Game Lodge accommodations have their own private en-suite bathroom with baths and showers. Sometimes even an outside shower.
Activities
I am staying in a private lodge, what are the game drive vehicles like? Are they all open?

Yes, your game drives are conducted in custom 9-seater safari vehicles which have an overhead canopy to protect you from the sun, protective sides and raised seating for superb game viewing.
Read more about the Open Vehicle Game Drive Experience
I'd like to do a bush walk. Do all the Private Lodges offer this?

No, only certain Private Game Lodges offer guided bush walks.
Contact our experienced Safari Consultants to advise you on the best package option for you.
How many hours can I expect to be on a game drive?

Game drives are about 3 - 4 hours long and take place in the morning and again in the late afternoon and evening - these are the best times for game viewing.
Usually, stops are made en-route in the bush for a warm cup of coffee and a rusk in the morning and a sundowner cocktail in the evening.
Meals
I'm considering booking a safari package staying at a Private Lodge. Are all meals and drinks included in my rate?

Yes, all your meals are included in your rate - with a scrumptious hot or cold breakfast in the morning, cold meats and salads for lunch and a banquet of grills or roasts in the evening.
Depending on your package some local beverages and wines will be included in your rate.
Ask your Safari Consultant to confirm this at the time of booking.
Where do I have my meals at the Lodge?

Meals are served in a social setting with all the guests staying at the Lodge.
Evening meals are served in an open-air boma (around a camp fire) and some lodges even have bush dinners where tables are set up in the bush under a tree or by a riverbed.
I have dietary restrictions. Can the Private Lodges cater for this?

Most Private Game Lodges can cater for all your special dietary needs. It is important to inform your consultant at the time of your booking so that special arrangements can be made.
They need at least a week's advance notice in order to source supplies.
Not all lodges are able to prepare kosher or halaal foods on site, but for an additional cost kosher and halaal meals can be flown in.
Facilities
Can I buy curios at the private lodge?

Yes, most Private Lodges have small shops where a limited range of jewelry, souvenir and gift items, crafts and curios are sold.
Are there internet facilities?
Yes, most Private Game Lodges offer internet facilities; they vary from guest computers at reception to Wi-Fi, any assistance need can be found at reception.
If you need to know if there is Wi-Fi in advance please ask your Destination Specialist to check for you at the time of booking.
I will be travelling in summer. Will there be a pool to cool off in?

Yes, most Private Lodges have a communal swimming pool often with spectacular views of the bush. Some Lodges even have a private plunge pool/Jacuzzi en-suite.