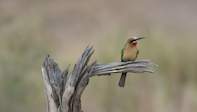 © Shem Compion
Boulders Bush Lodge is unique to Kruger National Park, South Africa as it is removed from the usual tourist routes.
Boulders Bush Lodge's buildings in Kruger National Park, South Africa are surrounded by large Baobab and green Seringa trees on a boulder strewn hillside, hence its name.
The closest entrance to Boulders Bush Lodge is at Phalaborwa Gate 74 kilometres (45.98 miles) from Mopani, which can be reached from Johannesburg in about 5 hours. There are also regular domestic flights to and from the Phalaborwa Kruger Park Gateway Airport.
Flora found in the region of Kruger National Park, South Africa include the Apple Leaf Mixed Bushwillow, Silver Cluster Leaf, Leadwood, Mopane Round Leafed Teak, Buffalothorn, Sycamore Fig, Magic Guarri, Marula, Jackalberry and Mixed Acacias.
GPS Co-Ordinates
-23.6076300 S
31.3792300 E